On this day of being with family and friends, we give thanks for our many blessings and extend our hearts and prayers to those impacted by Typhoon Haiyan. We pray for those who lost their lives, and for their families that continue to huddle in rubble of consequence while grieving for their loved ones.
Coming to the aid of those in need is driven by compassion, and the true essence of the meaning of Aloha, that when activated, reflects hope, and courage that lives and thrives in us without boundaries or prejudices.
Last night, Thanksgiving Eve, a traditional Japanese floating lantern ceremony was held inside the pools that flow around the state capitol. The event was coordinated by State Senators Donna Mercado-Kim and Glenn Mukai. It was a very emotional ceremony as families of the victims sent off their prayers upon the waters and into the light that leads upon tomorrow and into the afterlife.
It was a very meaningful moment of healing that was shared by Governor Neil Abercrombie, Hawaii State Legislators, which included Senator Clarence Nishihara from Pearl City, Officials representing the Philippine Government, local Filipino leaders, and the community.
I would like to wish you and your family and friends a wonderful, safe Thanksgiving Day as we continue to pray and support the relief efforts for our brothers and sisters in the Philippines who have been left devastated by Typhoon Haiyan.
May God Bless!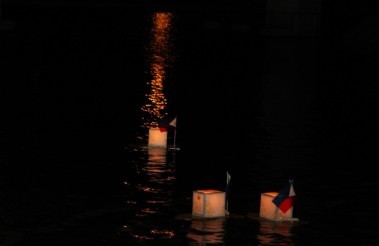 Photo by Barry Villamil | [email protected]
Prayers guide thy journey, lifting souls upon the spirits, and spirits into the light….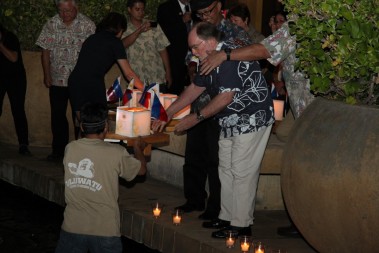 Photo by Barry Villamil | [email protected]
Governor Abercrombie presents his lantern prayer offering…..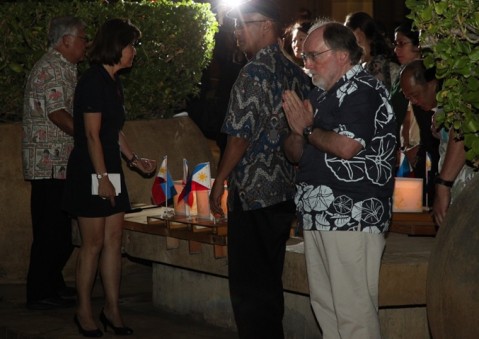 Photo by Barry Villamil | [email protected]
and guides it on it's way…..