Donald DePonte of Honolulu brought home a brand new, handcrafted, "Sonny D" ukulele after his number was called at the BLEIZN FX Hot Rod and Classic Car Show held on Sunday, December 1 at the Pearl City Shopping Center.
"I was lucky, I didn't believe that I won a Sonny D ukulele," said DePonte. "I have to thank him because that's something terrific that he would donate."
De Ponte is also a Hot Rod and Classic Car enthusiasts and car owner and has made it his hobby since he was teenager.
"I've been around hot rods since I was 15 years old, "DePonte said. "I'm 76 years now. Nobody believes. My kids tell me, "Daddy, when you going get out?" I said when I die, Hot Rods are my enjoyment."
Congratulations to Mr. DePonte on his big win!
Mahalo to Sonny D for his generous ukulele grand prize donation presented annually at the BLEIZN FX Hot Rod & Classic Car Show that follows the Pearl City Christmas Parade which is sponsored by the Pearl City Shopping Center Merchants Association.
Mahalo to BLEIZN FX Productions co-owners Bernard and Lei for their work in coordinating the car show!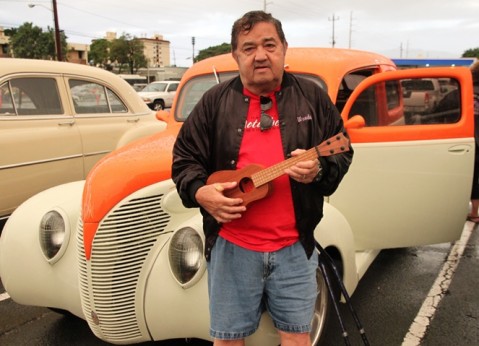 Photo by Barry Villamil | [email protected]
DePonte is pictured holding his brand new Sonny D ukulele in front of his '39 Ford, 2-door sedan.

Photo by Barry Villamil | [email protected]