Pearl City Charger soccer teams did not allow its opponents to score in a sweep of Leilehua in Boys Varsity, Girls Varsity and Girls Junior Varsity competition played at Pearl City High School's Edwin "Bino" Neves Stadium on Friday, December 13.
BOYS VARSITY SOCCER – Pearl City (2-0)

PEARL CITY 4 LEILEHUA 0

GOALS:

Devin Ajimine 1
Paul Enriquez 1
Nathan Nazareno 1
Jay Sato 1
GIRLS VARSITY SOCCER – Pearl City (3-1)

PEARL CITY 10 LEILEHUA 0
GOALS:
Randi Fontes 3
Cailla Fabro 2
Tasha Inong 2
Kenya Richey 1
Shelby Kita 1
Haley Honda 1
GIRLS JUNIOR VARSITY SOCCER – Pearl City (3-0)

PEARL CITY 7 LEILEHUA 0
The Chargers return to action, on the road, on Tuesday, December 17, at Mililani High School.

The Girls Junior Varsity kicks off at 4:00pm, followed by the Girls Varsity at 5:30pm, and the Boys Varsity at 7:00pm.

JUNIOR VARSITY BASEBALL
@ Pearl City High School, Sat. December 14

MILILANI 12 PEARL CITY 3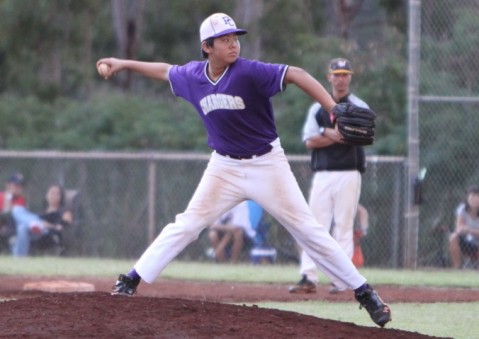 Photo by Barry Villamil | barry@mypearlcity.com
Carson Okada pictured on the mound in relief for the Chargers in the top of the 7th inning.