Aloha Harvest will use a $20,000 donation from Hawaiian Electric Company to help feed the needy, hungry, and homeless on Oahu.
For more than 13 years, Aloha Harvest has serviced the community by rescuing excess food from hotels, restaurants, food distributors, caterers and many other establishments, and delivering the food to agencies that feed the hungry. Aloha Harvest currently delivers food to more than 160 agencies and helps feed 72,000 individuals monthly.
"Hawaiian Electric is committed to the health and welfare of the community," said Lori Hoo, director of community relations at Hawaiian Electric. "We support the mission of Aloha Harvest which promotes recycling and ensures that food is efficiently distributed to those in need across the island."
For more information on Aloha Harvest and our program, call 537-6945, check us out on facebook.com/alohaharvest or visit www.alohaharvest.org to make a donation.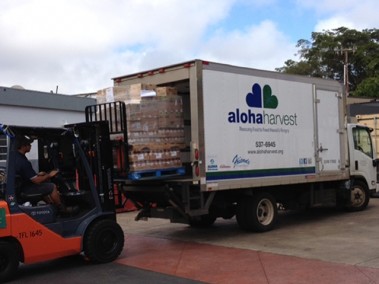 Photo courtesy of Aloha Harvest