The Nanakuli Lady Golden Hawks improved their regular season record to 6-1 after defeating the Pearl City Lady Chargers by 33 points, 55-22 last night in Oahu Interscholastic Association Girls Varsity Basketball played at Nanakuli High School. Pearl City dropped to 1-5 on the season.
Nanakuli's Renise Laa and Kawehi Chai both scored 11 points to lead all scorers. Pearl City's Tianna Amorin led the Lady Chargers in scoring for the second game in a row with 8 points.
Pearl City will host Kapolei (3-3) on Friday, January 3 at Pearl City High School. The Junior Varsity will get things going at 5:30pm with the Varsity to follow 15 minutes after the conclusion of the Junior Varsity game.
GO LADY CHARGERS!

@ Nanakuli High School
Pearl City (1-5) 4 2 4 12 22
Nanakuli (6-1) 15 11 10 19 55
Leading Scorers:

Pearl City – Tianna Amorin 8, Louise Pekelo 4, Chiemi Trias 4, Jurey Jao 2, Sina Sinclair 2, Ciera Sylva 2,
Nanakuli – Renise Laa 11, Kawehi Chai 11, Alexis Paulo-Myers 9, Tianna Hanonano 9, Alana Nuuanu 8 (2-3PM), Keanani Chai 5, Natalia Kaopua 2.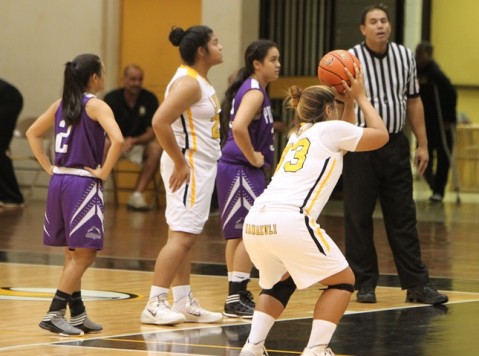 Photo by Barry Villamil | barry@mypearlcity.com
Nanakuli's #33 Renise Laa pictured at the free throw line scoring one of her 11 ponts against Pearl City.

Photo by Barry Villamil | barry@mypearlcity.com
Tianna Amorin puts up a shot surrounded by Lady Golden Hawks in the first period.
Amorin scored 8 points in the game to lead the Lady Chargers.

JUNIOR VARSITY

PEARL CITY 6
NANAKULI 41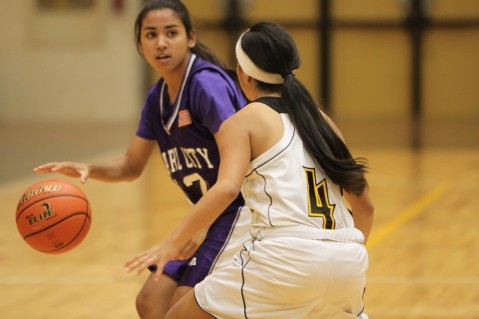 Photo by Barry Villamil | barry@mypearlcity.com
Pearl City's #12 Maya Mendez looks for an open teammate in the third period against Nanakuli.

Junior Varsity Photo Gallery:

http://www.mypearlcity.com/photos/sports/oia-girls-junior-varsity-basketball-nanakuli-41-pearl-city-6-12282013