US Med Urgent Care Pearl City reports a sudden uptick of new seasonal influenza (flu) cases indicating a possible outbreak of the flu on Oahu. The Urgent Care Center reports fifteen new cases since January 1, 2014.
US Med Urgent Care Pearl City Medical Director, Dr. Brandon Shirai, recommends that people get tested if they are experiencing flu symptoms such as high fever, chills, sore throat, body aches, diarrhea, vomiting, cough and chest congestion. "If you think you have the flu, it is important to seek treatment within the first 48 hours of experiencing flu symptoms. It is also important to understand that the flu can be contagious for 7 to 10 days, so children and workers should be kept home if they have flu symptoms."
Donna Schmidt, US Med Urgent Care Pearl City CEO remarks, "The flu just hit my own family! Today my son was experiencing flu symptoms so we took him to the urgent care center to be tested and treated and his test came back positive. It came on fast and I'm glad we were able to get him the care he needed right away."
The flu can be spread by coughing and sneezing. Dr. Shirai advises people to stay away from people who are sick, to wash hands often and if they haven't yet, to get a flu shot. He adds, "Along with testing and treatment, we help people who have severe symptoms. For example, we have IVs to rehydrate, we can provide anti-nausea medication and we can take a chest X-ray to determine if there may be a secondary infection."
If you have the flu, Dr. Shirai advises that you stay in bed, drink plenty of hot liquids like clear broths and take ibuprofen or Tylenol for pain and fever. It is also helpful to drink a beverage like Gatorade to replenish electrolytes.
US Med Urgent Care Pearl City offers flu shots, flu testing and treatment. It is centrally located at 1245 Kuala Street in Pearl City, is open 7 days a week and no appointment is necessary. For more information call: 808-456-CARE (2273).
For more information about seasonal influenza, visit www.cdc.gov
About US Med Urgent Care Pearl City: Pearl City Urgent Care is a medical clinic providing immediate and urgent medical care on Oahu for Pearl City, Honolulu, Waikiki, Waipahu, Aiea, Kapolei, Kunia, Waipio, Makakilo, Halawa, Mililani, and Ewa Beach. Pearl City Urgent Care is located at 1245 Kuala Street, Pearl City and provides a quick and affordable option for people needing immediate medical care and treatment for common or everyday health problems seven days a week – no appointments are necessary. It is a full service Urgent Care Center and has state-of-the-art technology to keep in touch with patients' primary care physicians. It also has a digital x-ray suite and trauma room. Along with immediate medical care, it offers drug testing, lab tests and provides basic services such as Sports and School Physicals, Occupational Health and Workers Comp. Call Pearl City Urgent Care at 808-456-CARE(2273).
US Med Urgent Care Pearl City is one of only two urgent care providers in the State of Hawaii certified by The Urgent Care Association of America.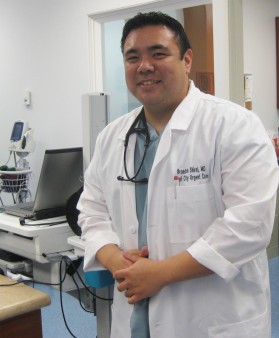 Photo courtesy of BHMarketing/PR Marketing/Writing/PR/Publishing/Productions
Pictured: US Med Urgent Care Pearl City Medical Director, Dr. Brandon Shirai