Best-selling author Clear Englebert will present "Feng Shui Bagua," a free program at the Pearl City Public Library on Sunday, January 26 at 1:30pm.
Englebert ("Feng Shui for Hawaii"), a noted feng shui specialist, will introduce the Five Elements and explain how they relate to home furnishings and landscapes. The Chinese word "bagua" translated into English literally means "eight areas" and in this context "eight areas around a room." Learn about the yin/yang symbol and how it evolved into the "bagua" map – a grid that lies over a home's floor plan.
Find out how to remedy problems created by uniquely-shaped houses. In addition, Englebert will discuss water features, plants, clutter reduction, how to eliminate conflicting energy from the home, and how single people can attract relationships.
The Pearl City Public Library is located at 1138 Waimano Home Road, Pearl City, Hawaii 96782.
Phone: 453-6566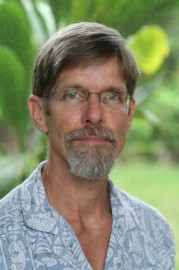 Photo courtesy of Clear Englebert
"Feng Shui Bagua" will also be presented at the following Oahu public libraries:
*January 22 (Wednesday), 6:30 p.m. at Manoa Public Library (2716 Woodlawn Drive; phone: 988-0459)
*January 23 (Thursday), 5:30 p.m. at Salt Lake-Moanalua Public Library (3225 Salt Lake Boulevard; phone: 831-6831)
*January 24 (Friday), 3 p.m. at Waikiki-Kapahulu Public Library (400 Kapahulu Avenue; phone: 733-8488)
*January 25 (Saturday), 10:30 a.m. at Kapolei Public Library (1020 Manawai Street; phone: 693-7050)
*January 25 (Saturday), 2 p.m. at Hawaii State Library (478 South King Street; phone: 586-3529)