The Pearl City Chargers picked up their second win in a row of the regular season after defeating the Aiea Na Ali'i 51-39 last night in Oahu Interscholastic Association Boys Varsity Basketball played Aiea High School. The Chargers, who represent the OIA Red Western Division beat the Na Ali'i from the OIA White Division convincingly with a fast paced offense and tough defensive battle under the boards.
The Chargers put together a 19-5 run in the second quarter to take a 32-19 lead at the half. The third period was much of the same with the Chargers increasing their lead over the Na Ali'i 45-27 entering the fourth period.
Aiea made a fourth period run that brought the Na Ali'i within 9 points at 45-36 on Bryson Naito's 2-point jumper from the top of the key with 4:00 minutes remaining in the period. Aiea made it an 8 point Pearl City lead at 45-37 after converting the first half of a one and one from the free throw line with 3:09 on the clock. Pearl City went back up by 10 points at 47-37 on a couple free throws by Tylor Canon with 2:58 on the clock. Ivan-Jacob Nakasone converted a pair of free throws for the Chargers after being fouled by Aiea's Brandon Lee with 2:18 on the clock. The Chargers took a 12 point lead at 49-37. Kimo Souza made it 49-39 off a steal and basket for the Na Ali'i with 48.3 seconds left in the game. Matthew Garcia scored the final points of the ball game on a long pass by Shandy Reyes that put the Chargers up 51-39.
Pearl City's Shandy Reyes (14), Eric Dela Pena (13)led the Chargers in scoring.
Aiea's Shaun Aque (11) led the Na Ali'i. Aque's 11 points including three 3-pointers.
The Chargers return home to face Waipahu on Wednesday, January 8. Junior Varsity tip-off is scheduled for 5:30pm with the Varsity to follow.
Go Chargers!

@ Aiea High School

Pearl City (2-0) 13 14 13 6 — 51
Aiea (0-2) 14 5 8 12 — 39
Leading Scorers:

Aiea – Shaun Aque 11, Bryson Naito 9, Kimo Souza 8, Amara Toure 5, Micah Chang-Olivar 3, Brandon Lee 1, Mana Kaahanui 1, Christian Kessell 1.
Pearl City – Shandy Reyes 14, Eric Dela Pena 13, Ivan-Jacob Nakasone 9, Matthew Garcia 5, Justin Bautista 4, Garette Kanamu 4, Tylor Canon 2, Joshua Arellano 2.
3-pointers

Aiea – Shaun Aque 3, Kimo Souza, Micah Chang-Olivar
Pearl City – Ivan-Jacob Nakasone
JUNIOR VARSITY

PEARL CITY 48

AIEA 51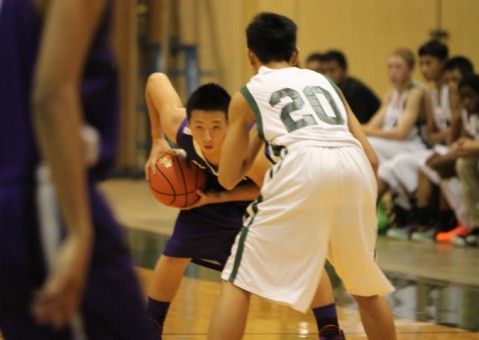 Photo by Barry Villamil | barry@mypearlcity.com
PHOTO GALLERY:

http://www.mypearlcity.com/photos/sports/oia-red-west-division-boys-junior-varsity-basketball-aiea-51-pearl-city-48-142014