The Pearl City Lady Chargers sent their senior class teammates off in style with a 5-1 victory over Waipahu Tuesday night at Pearl City High School's Edwin "Bino" Neves Stadium. It was the last regular season home game for six senior Lady Chargers.
Aloha to the awesome Lady Chargers Senior Class!

Lindsey Ahlo, Darby Barnett, Noel Ohashi, Tasha Inong, Kenya Richey, Ariela Bali.
With win over Waipahu, Pearl City improved to 5-3 while the Lady Marauders fell to 1-7.
The Lady Chargers return to action against Campbell, on the road, on Friday, January 10. Campbell and Kapolei sit atop the league standings at 7-1. Mililani is in second at 6-2 followed by Pearl City at 5-3. The Lady Chargers finish the regular season on the road against Waianae on Tuesday, January 14.
Go Lady Chargers!

Goals:
Pearl City – Randi Fontes 3, Bethany Nazareno 1, Tasha Inong 1.
Waipahu – Jessica Gonzales 1.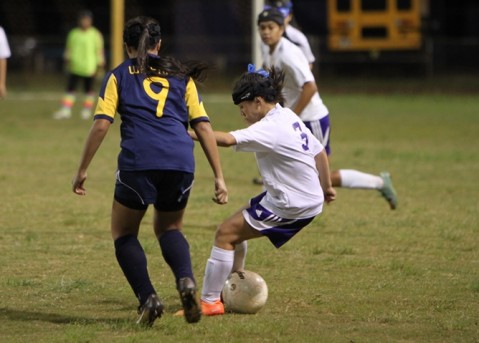 Photo by Barry Villamil | barry@mypearlcity.com
#3 Randi Fontes played a great game for the Lady Chargers, leading all scorers with 3 goals.

JUNIOR VARSITY
WAIPAHU 0
PEARL CITY 12
The Lady Chargers (5-1) are one game back of lead leading Mililani (6-0) with two games remaining

in the regular season. The Lady Chargers have road games scheduled against Campbell and Waianae.

Go Lady Chargers!