Momilani Elementary School students and their teachers got a special visit on Friday from members of the Honolulu Police Department's SWAT (Special Weapons and Tactics) Team and Specialized Canine Unit during an assembly held in the school cafeteria.
HPD Patrol Officers were also in attendance to introduce themselves and to educate the students on their roles and responsibilities while protecting and securing the public's safety.
The assembly started with SWAT HPD Officer Radona from the Specialized Services Division, explaining to the audience, the duties of a SWAT Team member which includes year round training, dealing with crimes involving drugs, hostage situations, working with federal agencies to provide protection for national and international dignitaries, etc. The HPD SWAT team is also assigned each year to protect President Barrack Obama and his family during their annual Christmas vacation on Oahu.
The SWAT Team members gave a demonstration of the equipment and gear that they use and wear while on duty in the field. Momilani Elementary second grade teacher Ms. Debra Fujitani volunteered to serve as a "SWAT equipment model". As each piece of equipment was introduced and explained with regard to its usage and function, it was also being strapped on Ms. Fujitani.
Next up was a few demonstrations that featured HPD's Specialized Canine Unit that are highly trained in narcotics and explosives detection, and to search for prison escapees, missing persons, and felony suspects. Officer Wayne from the Police Canine Unit and his dog Rex demonstrated the aggressive approach and commands executed to subdue and bring down an individual if the need arises.
The canines are imported from several European countries where they are bred and trained before making their way to the U.S. They are also a bit expensive at a price tag of $10,000 apiece. Obedience is instilled in each dog as a puppy and throughout their careers. The dogs are considered an officer in the Honolulu Police Department's (HPD) SSD along with a badge designation. Each dog lives with the HPD Officer assigned to it and actually become a part the family (family pet).
The assembly ended with the students being invited to check out the HPD patrol cars and motorcycles that were parked in the cafeteria parking lot. HPD Officers were available to answer any questions the students had about their vehicles and roles as patrol officers.
It was a lot of fun participating in the event presented by the exceptional HPD Officers. Mahalo to the Momilani Elementary School parents who coordinated the HPD visit. Also, mahalo to Principal Doreen Higa, Vice-Principal Garrett Arakawa, and Counselor Lance Nishihara for inviting me and for giving me the opportunity to capture and post the event on MyPearlCity.com for our online ohana to enjoy.
Are you sure you want to be on the SWAT Team ?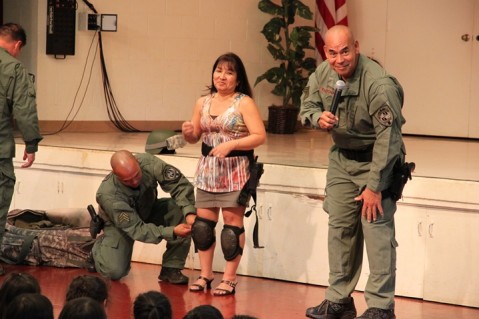 Photo by Barry Villamil | barry@mypearlcity.com
Ms. Fujitani begins the transformation from Momilani second grade teacher to HPD SWAT Team member.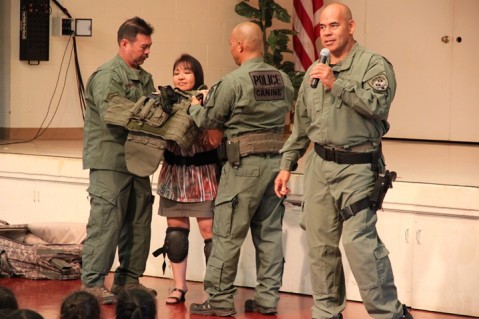 Photo by Barry Villamil | barry@mypearlcity.com
HPD SWAT Team Officers fit Ms. Fujitani with a low rise bullet proof vest as Officer Radona

explains the vests multi-purpose usage and protection for the SWAT Team Officers while on duty.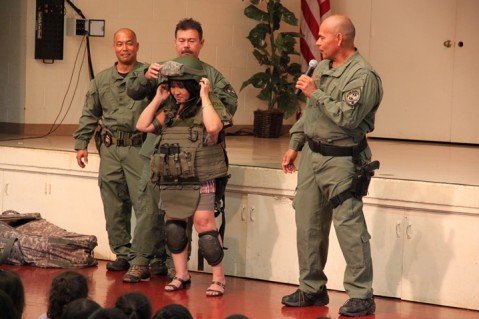 Photo by Barry Villamil | barry@mypearlcity.com
Next up, an official SWAT Team helmet.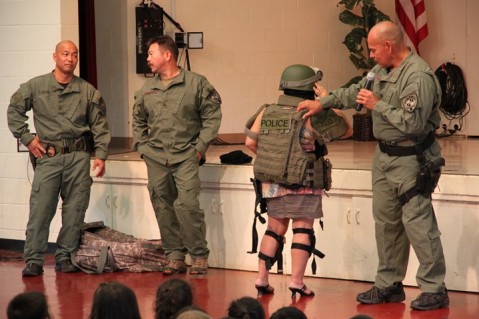 Photo by Barry Villamil | barry@mypearlcity.com
Transformation almost complete. Wears my boots? Wears my gun?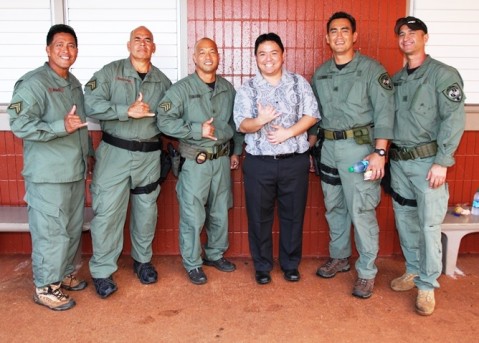 Photo by Barry Villamil | barry@mypearlcity.com
Vice-Principal Garrett Arakawa posed for a picture with some of the HPD SWAT Team Officers

who presented their expertise during Friday's assembly at Momilani Elementary School.

Taking a bite out of crime!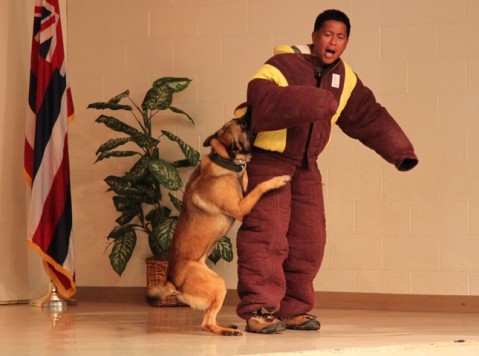 Photo by Barry Villamil | barry@mypearlcity.com
Rex tears into a well padded, and protected HPD Officer during a take down and subdue demonstration.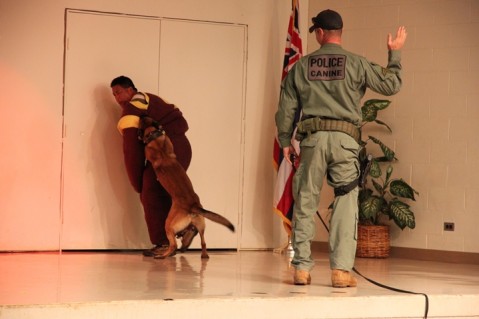 Photo by Barry Villamil | barry@mypearlcity.com
HPD Officer Wayne sends a command to Rex who has the suspect pinned up against the wall.