Pearl City battled the visiting Radford Rams to an impressive 4-1 win on Friday in Oahu Interscholastic Association Red Western Division Varsity Boys Soccer played at Pearl City High School's Edwin "Bino" Neves Stadium.
With the win, Pearl City and Radford pulled into a third place tie at 7-2 in the regular season league standings. Mililani 9-0, and Kapolei 8-1, occupy first and second place in the tough and very competitive OIA Red Western Division.
Pearl City took a 1-0 lead in first half on a goal from about 5 yards, dead center, by Carter Casuga. The Chargers took their 1-0 lead into the halftime break. Pearl City went up 2-0 in the second half on a goal by Ryan Nakano that he nailed from about 15 yards out. The Pearl City lead increased to 3-0 over the Rams on a late second half goal from about 20 yards out by Jay Sato.
Radford got on the scoreboard on a goal by Ethan Russ from close range that cut into Pearl City's lead at 3-1. The Chargers scored again on a shot by Samuel Joe from about 10 yards out with about a minute left in the ball game that put Pearl City back up by three goals at 4-1.
Charger Head Coach Randy Shinn commented on the importance of each game as they finish out the regular season next week. He also praised the play of the Radford Rams. Coach Shinn was also pleased with his team's performance, and how they stepped up in the win over the Rams.
"Every games important," said Shinn. "First and foremost, gotta give a hats off to Radford for playing an excellent game. They threw us off our game plan. We knew it was going to be a very tough match because of the fact that they had a 7-1 record, and they had the momentum with them. They just took us out of our game and I'm glad that our team fought back. I'm very happy with my boy's performance tonight and how they came out and stepped up to the occasion."
Pearl City will end the regular season at home against Aiea (3-6) on Monday, January 20. The Chargers will bid Aloha to nine seniors as they play in their last regular season home game.
Go Chargers!

GOALS:
Radford (1) Ethan Russ
Pearl City (4) Carter Casuga, Ryan Nakano, Jay Sato, Samuel Joe
Other scores for Friday, January 17:

Mililani 4 Waialua 0
Kapolei 4 Leilehua 0
Campbell 2 Aiea 1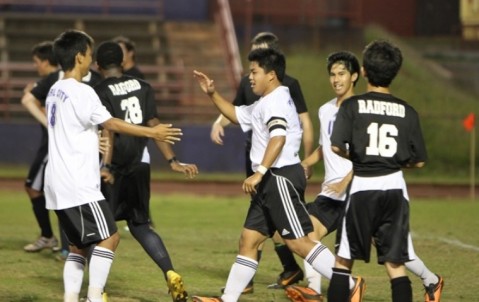 Photo by Barry Villamil | barry@mypearlcity.com
Carter Casuga (middle) receives a congratulatory hand shake from teammate Daniel Woo after scoring the
game's first goal In the first half against Radford on Friday, January 17, 2014 at Pearl City High School.