The Pearl City Chargers cruised past Aiea 4-1 to end the regular season in OIA Red Western Division varsity boys soccer competition on Monday at Pearl City High School's Edwin "Bino" Neves Stadium.
Pearl City finished the regular season at 8-2 for third place in league play. The Chargers move on to next week's OIA Red Division championship tournament play-offs. Pearl City (W3) will play Castle (E6) in the opening round on Tuesday, January 28, 6:30pm at Pearl City High School. Kahuku (E4) will take on Campbell (W5) at 5:00pm at Pearl City High School.
GOALS:
Aiea – (1) Jae Won Huh
Pearl City – (4) Paul Enriquez, Jay Sato, Daniel Woo, Carter Casuga
Pearl City also celebrated Senior Night by honoring 10 Chargers as they played in their last regular season home game of their careers.
Other scores for Monday, January 20:

Mililani 2 Leilehua 1 – Mililani finishes the regular season a perfect 10-0. Leilehua finished at 4-6.
Kapolei 1 Radford 0 – Kapolei comes in at 9-1, one game behind Mililani. Radford finishes at 7-3.
Campbell 2 Waianae 1 – Campbell completes the regular season at 6-4. Waianae finishes at 2-8.
SENIOR CLASS

Paul Enriquez, Jay Sato, Christian Nakabayashi, Ryan Nakano, Samuel Joe, Joshua Hicks, Bradley Rios, Andrew Tanaka, Nicholas Chun, Carter Casuga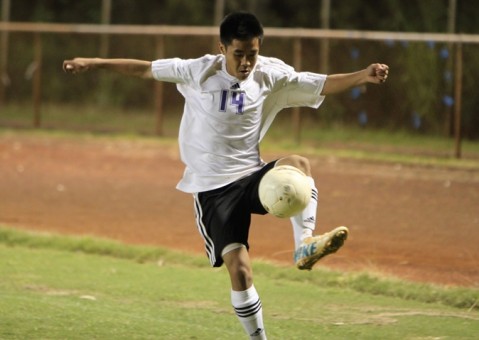 Photo by Barry Villamil | barry@mypearlcity.com
Pearl City senior Ryan Nakano pictured in action in the Chargers 4-1 win over Aiea on Monday.

CAR WASH FUNDRAISER!

Support Pearl City Chargers Soccer

Saturday, January 25 at PCHS KLM building from 9 AM – 1 PM

Cars $7

Trucks, SUVs, and vans are $10