Submitted by the Honolulu Rose Society:
The Honolulu Rose Society (HRS) is currently sponsoring two writing contests for Hawaii Elementary School children in K to 6th grade to celebrate the establishment of two new themed rose gardens ("Peace Rose Garden" and the "Heroes Rose Garden") at the Pearl City Urban Garden Center,. Students will be asked to describe "What Peace Means to Me" and "What a Hero (Heroes) Means to Me" in 30 words or less.
GUIDELINES FOR PEACE AND HEROES CONTEST
One winner will be selected for each of the following grade-divisions in each of the two contests:
Grades K – 2
Grades 3 – 4
Grades 5 – 6
There will be a total of six winners each of whom will win $100 for their winning entry. Winning answers will be engraved on small plaques and placed on garden benches in the Peace Rose Garden and in the Heroes Rose Garden.
Deadline for entries: February 15, 2014
Winners will be determined by February 27, 2014 and parents/guardians of the winners will be notified shortly thereafter. Winners will be presented with their monetary prize at a morning Grand-Reopening ceremony for the Rose Garden to be held on April 12, 2014 at the Pearl City Urban Garden Center.
Entries may be submitted via the HRS website at www.honolulurosesociety.org or mailed via hard-copy to:
Honolulu Rose Society P.O. Box 1932 Honolulu, HI 96805
Please include the following items with each entry:
Student's Name
Grade
Elementary School
Parent or Guardian's Name
Email Address and Phone Number of Parent/Guardian
Each student may enter each of the contests a maximum of one time. Duplicate entries will be eliminated by the HRS Selection Committee prior to judging. Questions may be submitted via email to honolulurosesociety@gmail.com.
BACKGROUND INFORMATION ON THE ROSE GARDENS
Two of the Honolulu Rose Society's goals for 2014 are a renovation of our "Peace Rose Garden" and the establishment of a "Heroes Rose Garden" directly across this rose garden. Both of these rose gardens will be situated at the entrance of the UGC Rose Garden and will be destination points leading directly from a "Peace Pathway" (a new concrete pathway currently under development by the "Peace Garden Hawaii" group leading from the public parking area to the UGC Rose Garden). Rose varieties in these two themed gardens have been carefully selected to shadow the theme of "Peace" and also commemorate those who have served as advocates and/or those who have sacrificed in the name of Peace and/or Conflict Prevention/Resolution.
These varieties are:
*Peace – Introduced to the public at the end of WWII, this rose was meant to symbolize man's greatest hope for all time.
*Veterans' Honor – A tribute to the military men and women who have sacrificed to serve our country.
*Firefighter – In honor of 9-11 firefighters in New York.
*Pope John Paul II – Honors the memory of one of history's most beloved and influential leaders who significantly improved Catholic Church relations with other religious groups.
*Nicole Carole Miller – One of the heroes of United Airlines flight #23 who kept their plane from becoming another weapon of destruction on September 11, 2001.
The long-term benefit that we hope to accomplish is to establish an area where visitors can reflect on the topic of Peace as well as remember Heroes who have sacrificed of themselves in their efforts to educate others regarding tolerance, understanding, and acceptance. The "Peace" and "Heroes" rose gardens will feature seating areas in close proximity to the above-listed rose varieties and our hope is to encourage discussion and reflection on these two important topics.
The Honolulu Rose Society is a direct affiliate of the American Rose Society and qualifies as a non-profit organization under section 501(c)(3) of the Federal Revenue Code. The HRS was established on April 16, 1975 with the objective of studying, fostering, and encouraging the culture of roses in Hawaii.
Please visit our website at www.honolulurosesociety.org for more information.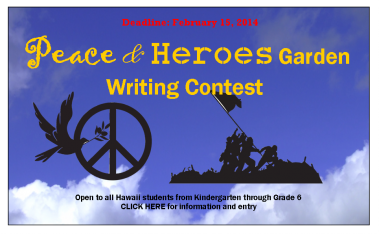 Photo provided by the Honolulu Rose Society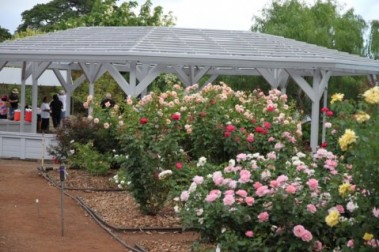 MyPearlCity.com File Photo | barry@mypearlcity.com
The Honolulu Rose Society rose garden is located at the Urban Garden Center in Pearl City.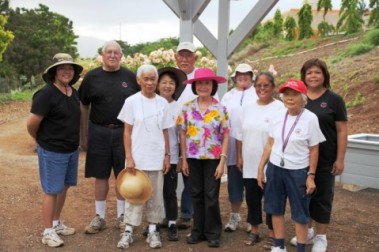 MyPearlCity.com File Photo | barry@mypearlcity.com
Honolulu Rose Society President, Myrna Cariaga (far left) is pictured with

Honolulu Rose Society club members at the HRS rose garden in Pearl City.