Pearl City Chargers Cheerleading Head Coach, Raenette Yuen is just about set to lead a group of thirteen Charger cheerleaders into next weekend's JAMZ National Cheerleading Competition at the Orleans Arena in Las Vegas, Nevada.
With fundraising efforts for the trip to mainland wrapping up, the girls are ready to take on some of the top high school cheerleading teams in the nation.
"We're competing against other mainland high school teams and we're going with thirteen girls out of thirty something," said Yuen. "Because they did a lot of fundraisers it came out to less than a $1000 per girl for the weekend. We leave on Wednesday, February 19 and come back on Sunday, February 23. It's a one day competition and you just compete in your category."
Following the Chargers top ten finish in state championship competition, Coach Yuen has molded and prepared a group of junior varsity and varsity cheerleaders to compete while representing themselves and Hawaii on the big stage in front of an even bigger, enthusiastic audience of fans and competitors.
"The girls were asked if they wanted to go, and the girls who wanted to go came out to practice right after we did our state competition," Yuen said. "We asked both our junior varsity and varsity girls. A lot of them are freshmen. I have two girls who have been there already and they're really excited. They're telling the others that there is no other competition that they've been to so far. It doesn't compare to like the state of Hawaii because we do everything in gyms. I think the biggest thing we do is at the Blaisdell, but this will be at the New Orleans Arena with lights and everything. Last year Mililani went and they took first place. They like Hawaii teams."
Coach Yuen is fortunate to have former Charger cheerleader team captain Jasmine Kekaula on staff as an assistant coach.
"I have Jasmine Kekaula who is a former cheerleader for me. She's was my captain for three years. One year on the junior varsity, and two years on the varsity. She graduated in 2011 and still comes back to help me.
Running a successful cheerleading program requires a certain amount of help, assistance and support from the Charger cheerleading ohana.
"I would like to thank all our parents and Jasmine for supporting the program," Coach Yuen said. "Also, Myra Shindo who is one of the parents who really spearheaded all the fundraisers. Even Mr. Shigemasa (PCHS A.D.) really supported us. Principal Aaron Tominaga supported the girls as well."
If you would like to make a donation to help support the Charger Cheerleaders upcoming trip or to help with the purchase of new equipment, (practice mats) please write to the address below with your donation:
Pearl City High School
Cheerleading Program
2100 Hoo'kie'kie Street
Pearl City, Hawaii 96782
Please check out the following JAMZ website address to learn more about the JAMZ National Cheerleading Competition: http://www.jamz.com/nationals/calendar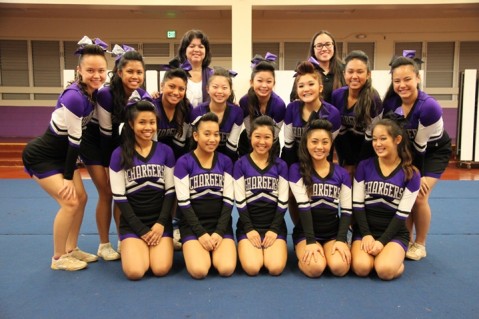 Photo by Barry Villamil | barry@mypearlcity.com
Go Lady Chargers!