Submitted by Cindy Olaso, Principal, Our Lady of Good Counsel School:
Caitlyn Pang (gr. 6) entered an essay contest sponsored by the Veterans of Foreign Wars. She placed first in our district then advanced to the state level.
At the state level she came in second for the middle school division. Her essay was titled "What Patriotism Means to Me"
Caitlyn was awarded a certificate, medal, and cash awards at each level of competition. The state level award presentation was given at a luncheon held at the VFW center on Feb. 15th.
What Does Patriotism Means to Me?
Patriotism is the loyalty, love, and respect for one's country, wherever we are. We see patriotism every day in our lives. Patriotism is everywhere in our country. Before sporting events, they sing the Star Spangle Banner. We also celebrate patriotism on holidays. Ever since I was little, I remember visiting my grandfather's grave with flowers. It is extra special on Veterans Day and Memorial Day when the giant flags lined the roads there.
My grandfather, Sgt. Major Fujio 'Wymo' Takaki, was a soldier in the United States Army. He was in the Military Intelligence Service for 23 years. He fought in three wars: World War II, the Korean War, and the Vietnam War. He defended our freedom. He is buried at the Hawaii State Veterans Cemetery with many other soldiers, who defended our country's freedom. He loved his country, even when his loyalty was questioned, because he was Japanese. He is patriotism to me.
Patriotism means to me is to love my country like my grandfather. I cannot fight in a war, but I can be a good citizen. Being a good citizen means to be responsible for what is happening around me. By participating in community services, I can help others who are in need. Recently, I participated in the American Cancer Association's Making Strides Walk for Breast Cancer and in helping to feed the homeless in Waikiki with schoolmates. Showing my patriotism, I need to help protect our environment, by recycling. Being a good neighbor is being American. Throughout our history, Americans helped each other. My elderly neighbor sometimes needs help around her house. I enjoy assisting her water her plants while spending time with her.
I love my country and I feel proud to live here. I will be the best I could be for it. Patriotism is the love, loyalty, and respect that one has for his or her country.
Congratulations Caitlyn!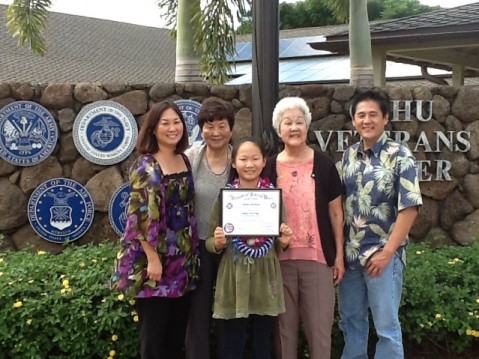 Photo courtesy of OLGC
(Pictured from left to right): Teresa Pang (mom), Cecilia Takaki (grandmother), Caitlyn, Dora Pang (grandmother), and Ryan Pang (dad).