Pearl City (1-0) opened the 2014 OIA Red Western Division Varsity Baseball regular season with a 9-4 win over Aiea on Wednesday at Pearl City High School.
Pearl City starting pitcher Trestan Nakamura earned the win pitching four complete innings while allowing three runs and five hits with one strikeout and one walk. Tanner Tokunaga pitched one inning in relief allowing no runs with one hit and two strikeouts. Chevy Sumile relieved Tokunaga to start the sixth inning and in two innings of work allowed one run on one hit with one strikeout.
Aiea's Jaryn Nakamoto took the loss for the Na Ali'i working two complete innings allowing five runs and six hits with two walks. Shae Ishimoto relieved Nakamoto in the third inning allowing three runs and four hits with one walk in 1 2/3 innings of work. Jansen Kudaishi took the mound in relief of Ishimoto in the fifth inning allowing one run on two hits in 2 1/3 innings.
Pearl City starting centerfielder Tanner Tokunaga had a hot bat hitting 3-3 with a single, double, and a triple. Tokunaga also drove in three runs with two runs scored and one stolen base. The senior lead-off batter recorded the Chargers first hit and first run scored to open the regular season. Charger teammate Matt Tsutomi was also on fire at the plate against Aiea hitting 3-4 with a single, double, and a triple. Tsutomi drove in one run along with two runs scored.
Kobe Kaito led the Na Ali'i at the plate hitting 2-3 and one run scored. Jared Uyeda went 1-2 with a double.
Pearl City travels to Campbell (1-0) to take on the Sabers on Saturday, March 8.
GO CHARGERS!
@ Pearl City High School
@ Pearl City 1 2 3 4 5 6 7 R H
Aiea (0-1) 0 1 1 1 0 1 0 4 7
Pearl City (1-0 3 2 1 2 1 0 X 9 12
WP – Trestan Nakamura
LP – Jaryn Nakamoto
Other Scores from Wednesday, March 5

Leilehua 0 Waipahu 2
Mililani 4 Campbell 5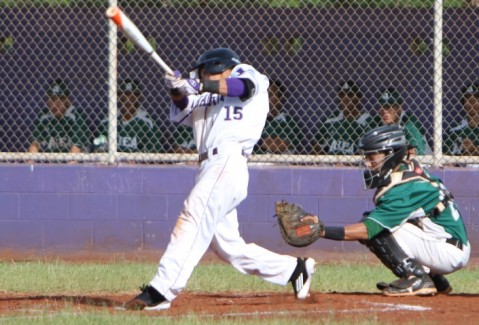 Photo by Barry Villamil | [email protected]
Tanner Tokunaga blasted a RBI triple in the bottom of the 2nd inning to put the Chargers up 4-1 over Aiea.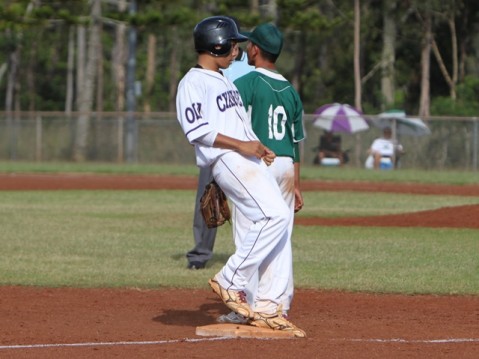 Photo by Barry Villamil | [email protected]
Pearl City's Matt Tsutomi pulls into third base after hitting a RBI triple that
scored Tanner Tokunaga from third base in the bottom of the second inning.