Mililani's Cole Nakachi held Pearl City to one run and one hit with three strikeouts over seven complete innings to beat Pearl City 2-1 in OIA Red Western Division Varsity Baseball played on Wednesday at Pearl City High School.
Pearl City starting pitcher Tanner Tokunaga had a strong performance for the Chargers allowing two runs and three hits with five strikeouts in seven complete innings in the loss to Mililani.
Tokunaga also scored Pearl City's only run in the bottom of first inning to give the Chargers and early lead that held up until the top of the fifth inning when Mililani scored two runs to take a 2-1 lead that held up through the scoreless sixth and seventh innings.
Mililani's Trevor Inouye batted 2-3, with a double, 1 run scored and 1 stolen base. Chace Miyachi went 1-2, with 1 RBI. Sean Sonognini scored 1 run with 2 stolen bases.
Pearl City's Trestan Nakamura picked up the Chargers only hit finishing the game hitting 1-2 with 1 stolen base.
Mililani improved to 2-1 while Pearl City fell below .500 at 1-2 in league play.
The Chargers return to action on Friday, March 14 at home against Leilehua. First pitch is scheduled for 3:30pm.
Go Chargers!
@ Pearl City High School
1 2 3 4 5 6 7 R H E
Mililani (2-1) 0 0 0 0 2 0 0 2 3
Pearl City (1-2) 1 0 0 0 0 0 0 1 1 2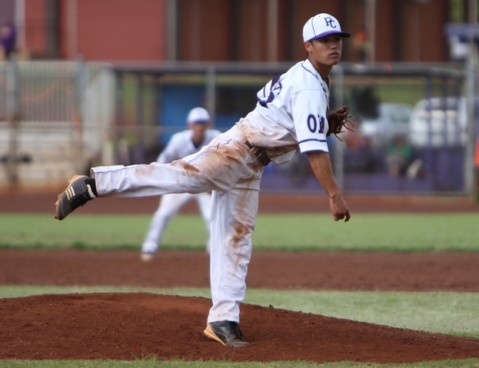 Photo by Barry Villamil | [email protected]
Tanner Tokunaga dualed Mililani's Cole Nakachi for seven innings allowing 2 runs and 3 hits with 5 K's.