Pearl City's Kristin Frost and Tyanna Kaaialii pitched the Lady Chargers past Waipahu allowing no runs and no hits in a 5-0 shut out win on Saturday in OIA Red Western Division Varsity Softball played at Waipahu High School.
Pearl City starting pitcher Kristin Frost earned the win for the Lady Chargers with a great performance that held the Lady Marauders to no runs and no hits in five complete innings of work Pearl City relief pitcher Tyanna Kaaialii finished the job for the Lady Chargers in the final two innings to preserve the no hitter and add a couple more zero's on the scoreboard for the save.
Waipahu's Tali Viliamu took the loss for the Lady Marauders in seven complete innings of work.
Pearl City moves to 2-0 in the OIA Red Western Division. Waipahu remained winless at 0-3 in league play.
Pearl City Leading Hitters: Robi Kami 2B, Run scored, Daeysha Resquer-Sagan 2B, RBI
The Lady Chargers return to action on Tuesday, March 18 at home against Leilehua. First pitch is scheduled for 3:30pm.
Go Lady Chargers!

@ Waipahu High School
1 2 3 4 5 6 7 R H
Pearl City (2-0) 2 0 0 2 0 0 1 5 5
Waipahu (0-3) 0 0 0 0 0 0 0 0 0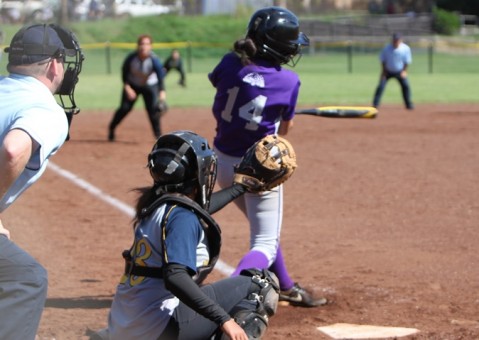 Photo by Barry Villamil | barry@mypearlcity.com
Kristin Frost earned the 5-0, no hit / shut out win over Waipahu on Saturday, but also took her spot
in the Lady Charger batter order. Frost is pictured here taking a cut in the top of the sixth inning.