Momilani Elementary School 5th grader Mia Noguchi is working towards achieving the Girls Scouts of America Bronze Award and has organized two food drives in Pearl City that will directly benefit the Hawaii Foodbank and feed Hawaii's hungry on Oahu.
"My name is Mia Noguchi and I am in the 5th Grade at Momilani Elementary School. I am working to earn the Bronze Award with the Girl Scouts of America. I will be collecting canned food donations at the Momilani Community Center Farmer's Market on Friday, April 4, 2014 from 2-7pm. I will also be doing a School Food Drive from March 25th – April 1st."
Mia's goal is to collect 1000 lbs. of food for the Hawaii Foodbank. Let's wish Mia the best in her mission to help those in need with the support and generosity from our residents who strive to improve the lives and welfare of all residents. Mia's success in her community outreach efforts will be worn proudly, with honor, and with a great sense of appreciation to the community as she achieves her goal of earning the Girls Scouts of America Bronze Award.
Good Luck Mia!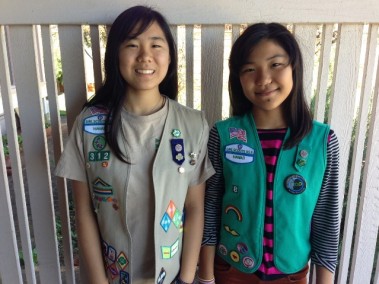 Photo courtesy of Mike Noguchi (Dad)
Pictured from left to right: Noguchi sisters, Candace (9th grade, Pearl City High School)
of Troop 312 and Mia (5th Grade, Momilani Elementary School) of Troop 8. Mia is working
towards her Bronze Award and is organizing the Food Drive.
Momilani Elementary School Food Drive

(2130 Hookiekie Street)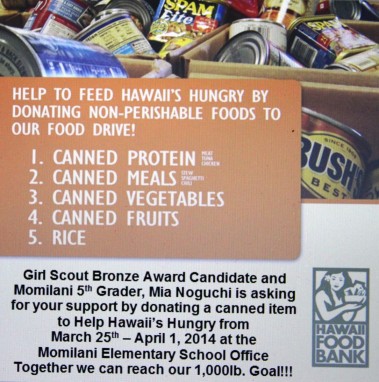 Momilani Farmer's Market Food Drive
Momilani Community Center
(715 Hoomoana Street – Intersection of Hoomoana Street and Komo Mai Drive)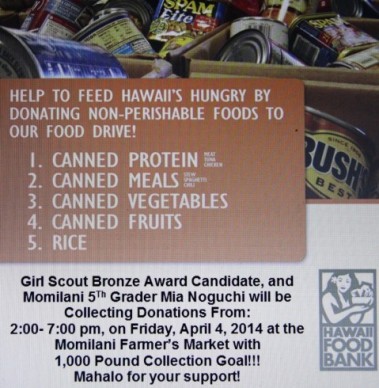 *The above food drive fliers were designed by Mia and her dad Mike.
Mahalo!