The Pearl City Lady Chargers sent off seniors Kylie Hong and Taylor Ganeko in style on Saturday with a thrilling 8-6 win over Leilehua at Central Oahu Regional Park in Waipio.
Pearl City improved to 5-3 (1-0, second round) in Oahu Interscholastic Association Girls Varsity Water Polo regular season league standings. Leilehua is 5-5.
Taylor Ganeko and Kylie Hong came through with two key victory clinching goals in the final minutes of the fourth period. Taylor's goal broke a 6-6 tie that gave the Lady Chargers a 7-6 lead. Kylie followed with a goal that padded the Lady Chargers lead at 8-6 with just under a minute and half to play in the game.
Taylor Ganeko, Taylor Shay Mackinaw, Kylie Hong, Michelle Fujita, and Chiemi Trias all contributed in the goals tally for the Lady Chargers.
The Lady Chargers return to action on Wednesday, April 9 against Kalani at Kaimuki High School.
Go Lady Chargers!

Goals:
Pearl City: Taylor Ganeko 4, Taylor Shay Mackinaw 1, Kylie Hong 1, Michelle Fujita 1, Chiemi Trias 1
Leilehua: Chloe Vidal 3, Dana Okuma 2, Jerri Maluyo 1
Aloha Kylie and Taylor!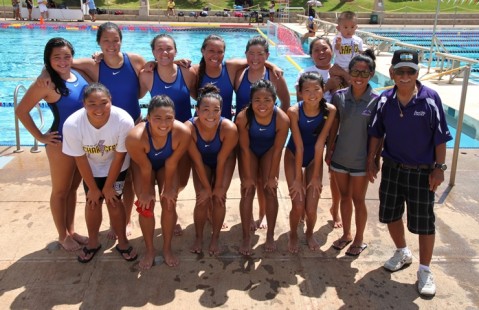 Photo by Barry Villamil | barry@mypearlcity.com
2014 Pearl City Lady Chargers Water Polo Team pictured at Central Oahu Regional

Park (CORP) in Waipio after defeating Leilehua 8-6 on Saturday, April 5, 2014.