The Pearl City Shopping Center will be one of eight locations on Oahu that will be collecting food and monetary donations tomorrow, April 19th during the 25th Annual Hawaii Foodbank Food Drive. The food drive will run from 8:00am – 3:00pm at all locations.
Please come out and support the Hawaii Foodbank on Saturday. All food and monetary donations go directly to the Hawaii Foodbank to help feed Hawaii's needy.
8 Collection Sites on Oahu:

Kapoleiity Commons
Koko Marina Center
McCully Shopping Center
Pearl City Shopping Center
Town Center of Mililani
Waiokeola Congregational Church – Kahala
Waterfront Plaza/Restaurant Row
Windward City Shopping Center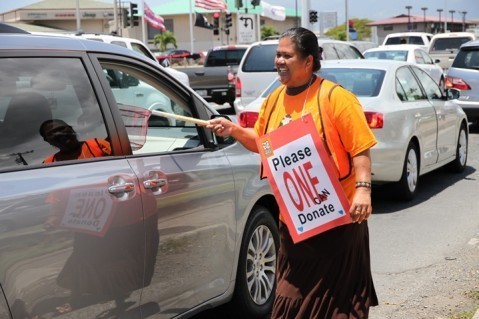 MyPearlCity.com File Photo | barry@mypearlcity.com
A Hawaii Foodbank volunteer pictured collecting donations from motorists on Kamehameha

Highway fronting the Pearl City Shopping Center during the 2013 Hawaii Foodbank food drive.