The Pearl City Chargers boys and girls judo teams put together another great performance on Saturday at the 2014 Oahu Interscholastic Association Varsity Judo Championships held at Leilehua High School.
In the girls division, Chastyne Dolor (109) and Netanya Kang (129) won individual championship titles. The Lady Chargers also had four runner-up finishes.
In the boys competition, Paul Joe won an individual championship title in the 178 Lbs. weight class. The boys had three runner-up finishes.
The Chargers will compete at the OIA Judo Team Championships on Friday, May 2 at Waipahu High School. Matches begin at 5:00pm. The Lady Chargers will be shooting for their 5th OIA Team Championship in a row.
Go Chargers!

OIA Judo Individual Championships:

Saturday, April 26, 2014

@ Leilehua High School

LADY CHARGERS TOP FINISHERS
98 Lbs. Adrienne Nazareno 4th
103 Lbs. Breanne Takaesu 4th
103 Lbs. Louise Pekelo 5th
109 Lbs. Chastyne Dolor 1st
115 Lbs. Mikayla Abe 3rd
115 Lbs. Alexis Ford 8th
122 Lbs. Joen Tominaga 4th
129 Lbs. Netanya Kang 1st
139 Lbs. Kayla Arakaki 2nd
139 Lbs. Sara Kaaiakamanu 3rd
154 Lbs. Megan Ramos 1st
154 Lbs. Kim Mendez 2nd
172 Lbs. Trudi Eltagonde 2nd
172 Lbs. Mana Borden 5th
220 Lbs. Ashly Antonio 2nd
220 Lbs. Olivia Mataele 4th
BOYS TOP FINISHERS
108 Lbs. Jon Domingo 8th
114 Lbs. Kyson Yoshimura 2nd
114 Lbs. Jaspar Cantorna 5th
132 Lbs. Robert Yamasaki 6th
145 Lbs. Andre Chatman 7th
145 Lbs. Blayze Remata 8th
161 Lbs. Sam Joe 3rd
178 Lbs. Paul Joe 1st
198 Lbs. Kapu Yasumura 2nd
220 Lbs. Jackson Fuamatu 2nd
220 Lbs. Matthew Keopihuwa 7th
285 Lbs. Halona Trias 7th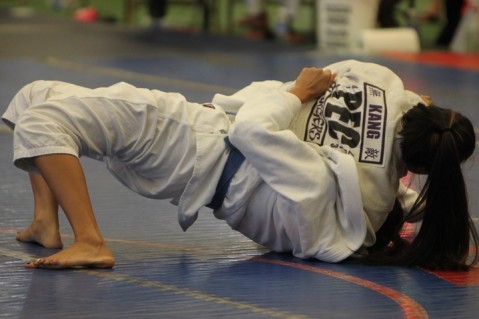 Photo by Barry Villamil | barry@mypearlcity.com
Netanya Kang won the 129 Lbs. individual championship title over

Kalani's Angela Ortiz. Netanya pictured here winning her semifinal match.

Photo Gallery 1:
http://www.mypearlcity.com/photos/sports/photo-gallery-1-pearl-city-oia-judo-individual-championships-4262014
Photo Gallery 2:

http://www.mypearlcity.com/photos/sports/photo-gallery-2-pearl-city-oia-judo-individual-championships-4262014