I would like to personally congratulate my friend, Momilani Elementary School Principal Doreen Higa on her nomination for the prestigious 2014 Masayuki Tokioka Excellence in School Leadership Awards. Doreen is amongst thirteen finalists who have already earned a $1000 cash award and a Certificate of Recognition in an awards ceremony held on March 29.
In a news release issued by Island Insurance Company on Wednesday, April 23, 2014, the company announced the following:
The finalists will be vying for the $25,000 (a $10,000 personal cash award and $15,000 towards a school project of his or her choice) grand prize award at the Public Schools of Hawaii Foundation dinner on May 1, 2014 in Honolulu. In addition, two semi-finalists will be selected and receive a $2,000 personal cash award. The award, which is named after Island Insurance founder Masayuki Tokioka, is underwritten by the Island Insurance Foundation, the philanthropic arm of Island Insurance Companies.
I have had the honor of posting several cover stories on MyPearlCity.com featuring Doreen and the successful curriculum and culture that her staff, students, parents, school organizations, and community supporters have nurtured through her twenty-five year tenure as Principal of Momilani Elementary School.
Momilani Elementary has been blessed with and abundance of success through the hard work of the administration's leadership, exceptional teaching skills delivered daily by its staff, and the commitment by the school's student body to give their best academic effort while perpetuating Eagle pride to grade levels above and below them throughout their experience at Momilani Elementary.
Pride and academic excellence has won the school numerous awards and accolades through the years which include being recognized and awarded the following;
Hawaii Blue Ribbon School (1996, 2002, 2010)
National Blue Ribbon School of Excellence (1997, 2004, 2010)
National School Safety, Discipline and Drug Prevention (1997)
Momilani Elementary has also been ranked number one (for the sixth year in a row) in Honolulu Magazine's ranking of 255 public schools.
Doreen is also very involved in the Pearl City and Aiea communities through her schools many community oriented activities and fundraisers, as well as her role as the past president and current member of the Rotary Club of Pearlridge where we both serve as Board Members. Doreen gives her heart and soul to Rotary communiuty service projects and activities from feeding the homeless, to providing a few thousand dictionaries to third graders representing 12 elementary schools in Pearl City and Aiea via the Rotary International Annual Dictionary 5000 Project.
Heart and Soul is what Doreen is truly made of. She inspires others to do their best and to help those in need. Her love for her students and the Momilani Elementary School ohana is manifested in the schools success and her legacy that she continues to add to its foundation, and upon the legacy of every student who proudly graduates from Momilani Elementary and carries his or her knowledge gained into the future and the next level of learning while contributing to the community in which they live in.
I would like to wish Doreen all the best ! Go Eagles!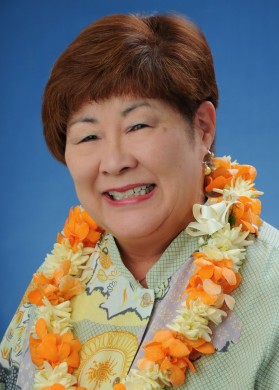 Photo courtesy of Island Insurance Agency
Momilani Elementary School Principal Doreen Higa

The Island Insurance Foundation was established as the charitable arm of Island Insurance, Hawaii's largest locally owned and managed P&C insurance carrier. Island holds a financial strength rating of "A" by A.M. Best and is the only Hawaii-Based company to be recognized as one of the Top 50 property & casualty insurance companies in the nation by the Ward Group for six consecutive years. For more information, visit its website at: www.islandinsurance.com.