Pearl City elite sprinter Diamond Briscoe was in true championship form on Thursday while competing in the 2014 Oahu Interscholastic Association Varsity Track Championship Preliminary Rounds at Mililani High School.
Diamond powered her way through the competition with wins in the 100, 200, and 400 meter races to qualify for Saturday's OIA Track Championship Finals and defend her 100, 200, and 400 meter 2013 championship titles.
Pearl City middle distance champion Maile Shigemasa placed first in the 800 and 1500 meter races to finish on top for the championship finals. Maile also qualified in the 3000 meter run with a fourth place finish in the prelims.
Jhenna-Rae Caldetera placed third in the 100 meter hurdles to qualify for the Lady Chargers in the championship finals.
The Chargers have a day off on Friday before returning to Mililani High School on Saturday for the championship finals scheduled to begin at 3:00pm.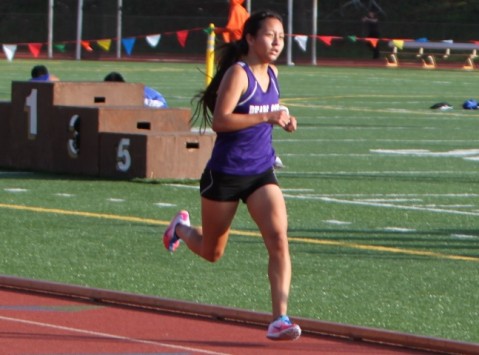 Photo by Barry Villamil | [email protected]
Maile Shigemasa placed first in the 1500 meter prelims with a time of 4:59.98.