Pearl City added another layer to the Lady Chargers judo team dynasty and legacy last night after defeating Mililani 77-20 to 5-peat as Oahu Interscholastic Association Girls Varsity Judo Team Champions.
The Lady Chargers earned their way to the championship finals after defeating Farrington 92-0 in the quarterfinals and Roosevelt 80-20 in the semifinals.
With senior leadership fed on adrenalin and the championship pedigree that runs through their veins, the girls came together, along with their underclassman teammates, and a coaching staff that is second to none, to take their place as one of the most decorated teams in the history of Pearl City High School Atheltics.
Robin Puahala, Lady Chargers Head Coach

"I don't know what to say, I'm just so happy now. We did it with our three seniors that are on the starting line up. We had three freshmen come in on our starting line up who helped pave the way for us. We look good heading out the state championships. We placed fifteen girls in the states. We're spread out in ten weight classes and if nothing falls a part, I think we should be fine."
Andy Toyama, Lady Chargers Assistant Coach, PCHS Judo Alumni and State Champion

"This is great to win the OIA Team Championships. For the seniors, the best way for them to go out is on top, and they did it. The girls are feeling kind of pumped heading off to the states because we know that the other schools are just as tough as Mililani was as a team. I think our girls are ready, they show it at practice, they work hard, and they have fun at the same time."
Breanne Takaesu, Lady Chargers Head Team Captain

"This is awesome because we kept the tradition going and we didn't want to let it down on our watch. These girls are the best. We just believed in our abilities. We just gotta keep training hard for the states and keep stepping it up. We have the best coaches, they're awesome. We have a lot of new people on our team, so they taught us really well."
Netanya Kang, Lady Chargers 129 lbs. 2014 OIA Individual Champion

"This feels awesome! Fifth one in a row! In the championship we were on it. I was pumped, our team was on top!"
The Chargers Girls and Boys Judo Teams will compete in the HHSAA State Judo Championship Tournament on Saturday, May 10 at the University of Hawaii's Stan Sheriff Center.
In last night's boys competition, the Chargers made it to the championship semifinals where they were defeated by Kapolei 80-20. Kapolei went on to beat Moanalua 60-40 to win the championship.
Go Chargers!

10-point winners:
Pearl City – Adrienne Nazareno, Chastyne Dolor, Joen Tominaga, Netanya Kang, Trudi Eltagonde
Mililani – Kaylin Castro, Haylie Shinsato
Boys Photo Gallery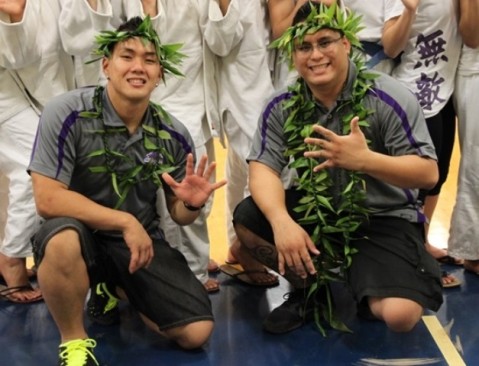 Photo by Barry Villamil | [email protected]
Pearl City Lady Chargers Head Coach Robin Puahala (right) and Pearl City Lady Chargers Assistant

Coach Andy Toyama (left) hold up the 5 PEAT sign following their OIA Girls Judo Championship win.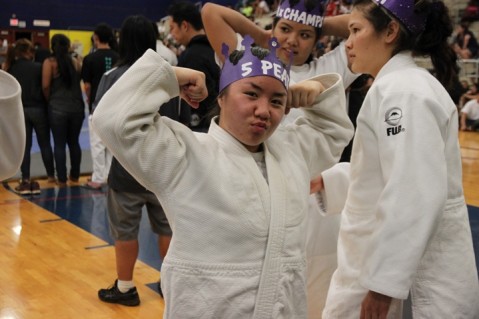 Photo by Barry Villamil | [email protected]
Netanya Kang flexes with pride during the Pearl City Lady Chargers post OIA Girls Team Judo

Championship celebration inside the Waipahu High School gymnasium on Friday, May 2, 2014.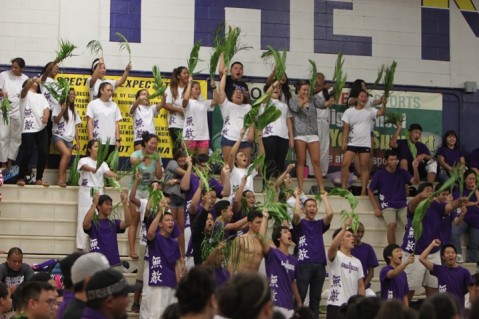 Photo by Barry Villamil | [email protected]
Pearl City Chargers PRIDE! is in the Da House!


Photo by Barry Villamil | [email protected]
Photo Gallery: Pearl City Boys Quarterfinal and Semifinal Competition
http://www.mypearlcity.com/photos/sports/pearl-city-boys-reach-oia-team-judo-championship-semifinals-522014