After last week's OIA Championship win that made it five in row, the Pearl City Chargers stepped up and added a third consecutive HHSAA State Judo Championship team title while setting a tournament scoring record of 104 points to totally outdistance second place runner-up (tie) Kamehameha-Kapalama and Moanalua by 65 points. Punahou finished in fourth with 40 points.
Pearl City freshman Chastyne Dolor capped an incredible season with the lone first place win for the Lady Chargers at 109 lbs.
Pearl City sent 14 players to compete in 10 weight classes. The Lady Chargers finished with 1 first place, 5 second place, 2 third place, 2 fourth place, 1 fifth place, and 1 sixth place
Lady Chargers Top Finishers:

98 Lbs. Adrienne Nazareno 5th
103 Lbs. Louise Pekelo 2nd
109 Lbs. Chastyne Dolor 1st
115 Lbs. Mikayla Abe 4th
122 Lbs. Joen Tominaga 4th
129 Lbs. Netanya Kang 2nd
139 Lbs. Kayla Arakaki 2nd
139 Lbs. Sara Kaaiakamanu 6th
154 Lbs. Megan Ramos 2nd
154 Lbs. Kim Mendez 3rd
172 Lbs. Trudi Eltagonde 2nd
220 Lbs. Ashly Antonio 3rd
Pearl City Lady Chargers Head Coach Robin Puahala was overjoyed for his girls for accomplishing their 3 peat championship win Saturday night at the Stan Sheriff Center.
"It feels good to send my three seniors out on top," said Coach Puahala. "I'm really happy for all my girls to win three in a row. I can't even find the words right now to express how I feel."
Seniors Breanne Takaesu, Megan Ramos, and Trudi Eltagonde were on cloud nine during the post championship celebration. All three seniors, who are also team captains, expressed their appreciation for their teammates and coaching staff throughout the season and their careers and also the importance of carrying on the winning Lady Chargers tradition.
"My teammates are the best," said Ramos. "Everyone has worked so hard to get here and I think we deserved it. Everyone pushed really hard and even the freshmen made it in and that was really something special. Our coaching staff really pushes us and they always tell us the game plan so we know what to do. They always make us feel safe. Our supporters are the biggest because they're always there making sure we have food to eat after weigh-ins and water. Anything we need, they're always there. I want to thank my partner Trudi, she really helped me get to the states and the final round. Without her, I couldn't get there."
"This feels really great," said Eltagonde. "I was a captain this year and can say that I helped bring the team all the way here. I'm happy to say that we still uphold the tradition of having fun, working hard, and still winning. I'm really proud of my team and I just hope that they continue to carry the tradition on. In the beginning it was hard for Megan and I because we were new partners, but we worked it out and I'm so proud to call her mypartner because I see how much she has improved and I'm just happy that I was part of her success. I would like to say to the team to keep up the hard work. I love my coaches, I love my team, and I hope they keep the tradition going."
"It feels really good because not all of us can be individual state champions, but as a team we came together and got on top," said Takaesu. "This is just really good because we kept the tradition going. There are only three us who are seniors, it's bittersweet, but I know the team will be really good next year because we have a lot of younger judokas. We have really good coaches. They know a lot about judo and their coaching is awesome. All of our parents are super supportive and our teammates who are not competing cheer us on .I'm going to miss competing with all the girls, it's special."
Congratulations Lady Chargers!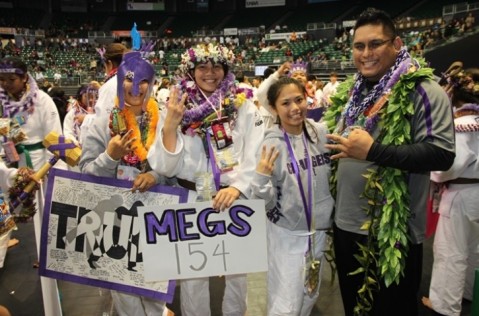 Photo by Barry Villamil | barry@mypearlcity.com
Pearl City Lady Chargers Head Coach Robin Puahala is pictured with seniors (L-R)
Trudi Eltagonde, Megan Ramos, and Breanne Takaesu as they hold up the 3 PEAT sign
on Saturday inside the Stan Sheriff Center following their state team championship win.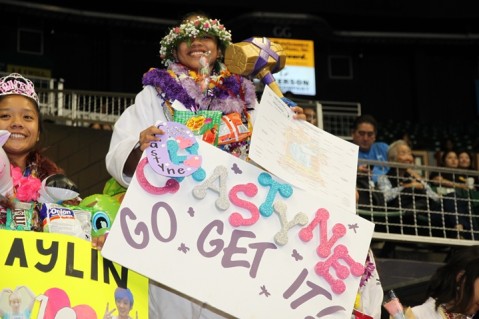 Photo by Barry Villamil | barry@mypearlcity.com
Pearl City's Chastyne Dolor, newly crowned 109 lbs. state champion!

Photo by Barry Villamil | barry@mypearlcity.com
It's all about having fun and winning championships with Lady Chargers style and official combatant gear!

Go Trudi!
Championship Celebration Photo Gallery:

http://www.mypearlcity.com/photos/sports/pearl-city-lady-chargers-celebrate-third-row-hhsaa-state-judo-championship-5102014