The Pearl City Chargers finished third in the team competition of the HHSAA State Boys Judo Championships on Saturday at the Stan Sheriff Center on the campus of the University of Hawaii at Manoa.
Kapolei took home the team championship title with 57 points followed by runner-up Waiakea of the Big Island with 54 points, and Pearl City in third place with a total of 52 points.
It was a tough day of competition for the Chargers who were led by senior Paul Joe who brought home gold in the individual competition in the 178 lbs. weight class division. Joe summed up the excitement of winning gold and how his teammates tried their best at taking home a team championship title:
"It feels pretty good," said Joe. "It's the first time at the top, so it feels pretty exciting. Our team worked hard and did the best we could. That's all that matters. Taking first is a big deal, but as a team, as long as we tried our best. Thank you to our coaches and our supporters. They helped us through the season and without them we wouldn't be where we are now."
CHARGER BOYS TOP FINISHERS
114 Lbs. Kyson Yoshimura 6th
161 Lbs. Sam Joe 2nd

178 Lbs. Paul Joe 1st
198 Lbs. Kapu Yasumura 3rd
220 Lbs. Jackson Fuamatu 2nd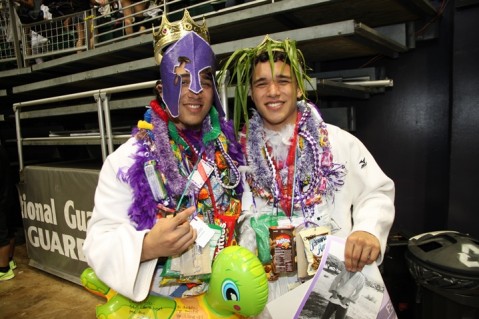 Photo by Barry Villamil | barry@mypearlcity.com
Brothers Paul Joe (left) and Sam Joe (right) finished first and second in their weight class
divisions on Saturday. Paul and Sam are pictured here enjoying the post championship tournament
celebration on the floor of the Stan Sheriff Center on the campus of the University of Hawaii at Manoa.

Congratulations to all the Chargers!