As Pearl City High School's Class of 2014 prepares for next week's commencement ceremony at Aloha Stadium, I recently had the pleasure of reminiscing upon my graduation day from PCHS as a proud member of the class of 1977 after discovering a box of old photos taken by my father on that very day.
Ironically, I had just received an invitation yesterday afternoon from the Pearl City High School graduation committee inviting me to their commencement ceremony when only a few hours earlier I had come across the box of graduation photos that had been dropped off at my house about a year ago after my father had passed on.
It's been 37 years since graduating from PCHS and how the school has changed and grown after looking at all the pictures. In those days, we didn't't have a gym, a stadium, or a state of the art athletic training room (in fact, we didn't't even have a trainer). We did have a group of upperclassmen tough guy students who could really play an amazing style of volleyball during P.E. classes. They were good guys as long you had skills at the setter position and took no responsibility with regard to what happened on the other side of the net after setting the ball.
The PCHS Class of '77 had a great time, and still do. Lifelong friendships from being 14 year old freshmen classmates to 55 year old AARP card carrying senior citizens who love Las Vegas, singing karaoke, and UH sports.
If you're from the class of '77, and reading this article, can you believe how the years have flown bye? Whenever I come across classmates that I haven't seen in a while, after a few moments together, it seems that the years between then and now quickly shrink as we rekindle our friendships. Facebook has been instrumental in helping me communicate and stay updated with our classmates on a daily basis while learning more about the lives they live today.
I would like to congratulate the PCHS Class of 2014 and wish them the best as they take their place in the world and the success that the future will bring to them. I would also like to personally send a very special Aloha to all my PCHS classmates and buddies. The experiences we shared together, the adventures we embarked upon, and the chances we took, were worth every moment as they live on in time known only to one another who share the PCHS Class of '77 bond and the path of memories that steps into the future with every moment spent together as friends.
If you would like to share your PCHS experience, please leave your comments below or click on the Facebook and Twitter icons located on our homepage. It would be really be cool to hear from my classmates and other PCHS alumni as well. Teachers and staff too!
Pearl City High School Class of 1977 commencement ceremonies were held in early June
of 1977 on the school track and football field where Edwin "Bino" Neves Stadium stands today.
PCHS tennis and basketball courts, and P.E. locker rooms are pictured in the background.

Final step towards being handed my high school diploma. It costs my parents $50.00 in lost

text book fines 24 hours earlier in order to take that step. I'm pictured here backing up graduation

traffic in the V-Z section as I pause to think about how I really could of used that $50 bucks.

I think that's the same bleachers that currently sit in the Ewa end zone at Edwin "Bino" Neves Stadium.

My lifelong best friend Dallas Carter (right) and me (Barry, left). We had a lot of hair!
That's when a haircut took about 45 minutes. It's a lot faster for us today.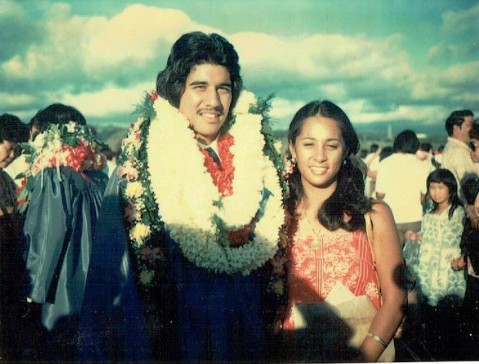 My girlfriend Malia Alama (St. Francis '77) Wow!

Post graduation fireworks celebration! Not listed on official PCHS commencement program order of events!