Students from Palisades Elementary School won the top prize of $10,000 in the Home Energy Challenge, sponsored by Hawaiian Electric. The school received the cash award Thursday morning during a check presentation held in the school cafeteria.
Palisades Elementary was one of seven elementary schools that partnered with Hawaiian Electric during the 2013-2014 school year to learn about the importance of energy conservation and sustainability.
"The Home Energy Challenge encourages students and their families to implement energy conservation practices at home and reduce their electricity use," said Ka'iulani de Silva, Hawaiian Electric's director of education and consumer affairs. "The schools whose families achieve the highest percentage of reduction in electricity use from October through March win cash prizes."
7th annual Home Energy Challenge Winners:

1st Place, $10,000 prize, Palisades Elementary School
2nd Place, $6,000 prize, Nu'uanu Elementary School
3rd Place, $3,000 prize, Kūhiō Elementary School


The students and their families from the three top winning schools benefited from a combined savings of over $9,000 on their electric bills.
Home Energy Challenge participating schools also have the opportunity to compete by submitting their energy conservation projects. Students create and document energy conservation campaigns, with the winning schools receiving $1000 cash prizes. Kamiloiki, Kūhiō, Ma'ema'e, and Mililani Mauka elementary schools won a $1000 each in this year's Energy Conservation Project.
"The main goal of the Home Energy Challenge is to teach children about energy conservation and clean energy resources," said Ka'iulani de Silva.
For schools interested in participating next year
Applications for the 2014-15 Home Energy Challenge will be sent to all O'ahu public elementary schools this summer. Interested schools can call Ms. Sam Nichols at 543-7511 for more information.
About the Home Energy Challenge
The Home Energy Challenge documents the average daily kilowatt-hour electricity use at participating elementary school students' homes during the months of October through March, while students implement energy conservation tactics. The data is compared with historical data from the previous year, October through March. To ensure that schools of all sizes are able to compete evenly, the top prizes are awarded to the schools whose students' average home energy use decreases by the largest percentage.
Congratulations to Palisades Elementary School for their winning efforts in the 2013-2014 Home Energy Challenge!
Mahalo to Hawaiian Electric for their continued financial support of our schools and students in the Pearl City District Complex as well as their commitment to teach both students and their families about energy conservation and clean energy resources.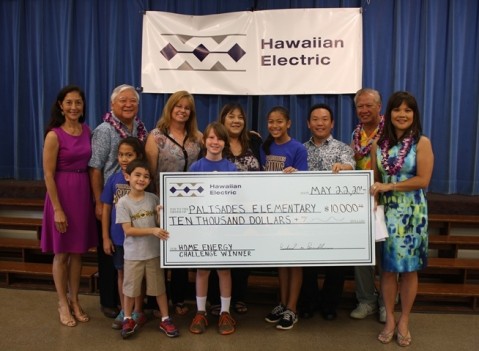 Photo courtesy of Hawaiian Electric Company
Palisades Elementary School receives a $10,000 check from Hawaiian Electric Company for success in

conserving energy and winning first place in the Home Energy Challenge. Pictured left to right are:

Hawaiian Electric education and consumer affairs director Ka'iulani de Silva; Senator Clarence Nishihara;

students Alana Ho and Jerome Nozawa; Hawaiian Electric community affairs consultant Sam Nichols;

student Taiyo Watt, Palisades Elementary parent community networking coordinator Desiree Yamanouchi;

student Preston Spragling; Palisades Elementary principal Gavin Tsue; Representative Gregg Takayama;

and Hawaiian Electric government and community affairs vice president Darcy Endo-Omoto.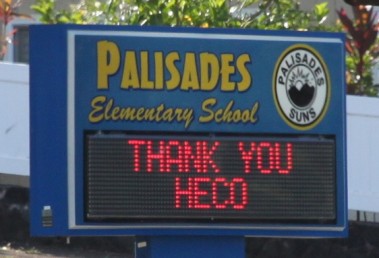 Photo by Barry Villamil | barry@mypearlcity.com