The 2014 HSPLS Children's Summer Reading Program, HouseMart Ace Hardware and HouseMart Ben Franklin Crafts will present "Hardware Science," today at the Pearl City Public Library at 1:30pm to 2:30pm. This a free event and children ages 8 and older are invited to explore all things related to science and will learn some Science, Technology, Engineering, Arts & Math (STEAM) concepts.
Children will learn how to think like a scientist and experience live demonstrations including an Air Blaster and Inertia Cups which explore air currents and gravity principles, using simple equipment and tools available at hardware and craft stores.
For more information about this event or about the 2014 HSPLS Children's, Teen, or Adult Summer Reading Programs, please visit www.librarieshawaii.org, like us at www.facebook.com/HSPLSHIgov, follow us on www.twitter.com/HSPLSHIgov, or call the hosting library.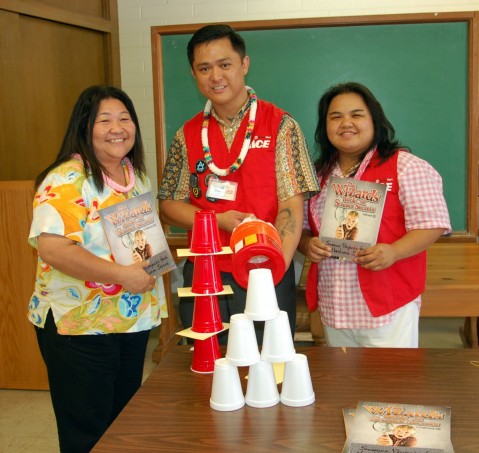 Photo courtesy of HSPLS
Pictured: Dean Ramos (center), Wizard-in-Training of HouseMart Ace Hardware and

HouseMart Ben Franklin Crafts, and (L-R) helpers Joy Shimabukuro and Kristane Gaspar.