I am so proud and extremely honored for the opportunity to recognize incoming Pearl City Elementary School 6th grade student and international painting contest champion Devan Budd for her amazing accomplishment in winning the top prize in the 25th Annual Children's Art Competition presented by the Mokichi Okada Association Museum of Art in Japan.
Devan was chosen over 450,000 entries from eleven countries for the prestigious judge's pick which was the first time an American has ever won the award. She created her masterpiece titled "Racer" during the Spring of 2013 and was anounced the winner of the contest earlier this year.
On Saturday, May 31 Devan was honored by the Museum of Art (MOA) Hawaii and presented a trophy and was reunited with her award winning painting in a ceremony held at the Honolulu Museum Art School.
Devan's painting depicted hurdlers sprinting in a race while another runner is pictured in the distance representing the true agony of defeat. Her use of colors and light was expertly blended into her artwork.
After the awards ceremony on Saturday, I caught up with Devan who was beaming from ear to ear with pride, excitement, and appreciation for the award. She gave thanks to her family and especially to her great-grandmother who is an accomplished artist.
"It feels great!," said Devan. "A hundred thousand percent! I want thank my family. My grandma, and my great grandma who is the artist in my family. Thank you to my mommy and my brother Riley."
Lynne Budd, Devan's mom couldn't believe Devan was chosen out of the 450,00 entries. Emotions, pride, and joy served to embrace her daughter in a moment and time that will live forever in their lives.
"I couldn't't believe it, almost half a million people and a little girl from Pearl City Hawaii win's it," said Lynne. "There was some choked up moments and definitely pride. I'm just happy and happy for her. It's something that she's going to take with her for the rest of her life. It's awesome. My grandmother is an amazing artist and it's nice to see someone else in the family follow in her footsteps."
With the international awards ceremony held in Atami, Japan, and Lynne's husband Earl currently deployed, getting to Japan to accept Devan's award would be a definite challenge for the Budd family.
"The first thing that we did was how do we get to Japan?" Lynne said. "How do we get there to make this happen? We couldn't because my husband is deployed right now, so we could't quite make it all mash up. It's kind of unbelievable. My husband Earl is actually in Japan. He's in Okinawa. He was ecstatic with the news. He was trying to get to Atami to except the award for her, or just see it, but we just couldn't make things work out that way."
Devan's art teacher Roy Otaguro, who is also the Art and Culture Director at the Museum of Art Hawaii in Honolulu, commented on the annual art contest competition that starts in the after school art programs conducted at six schools statewide. Last year, over two-thousand students entered their artwork into competition at each district level. One winner from six districts is picked as "Best of Show" and moves on to Japan at the international level.
"We also run after school art programs at six schools and one of them is Pearl City Elementary School where Devan Budd attends," said Roy Otaguro. " For Devan, she first won on the district level and her painting was picked as "Best of Show at the Pearlridge exhibit last year. Being the best of show there, it joined other best of shows and was sent to Japan to compete on the international level. There were 452,000 entries from throughout the world, eleven countries and thousands of best of shows."
Mr. Otaguro helped describe the flow of Devan's "Racer" winning painting.
"From my perspective, if we go and look at the painting, there's a contrast of light and dark in such as the movement of the whole painting itself," Otaguro said. "It's the texture of the background verses solid colors bringing out the main subject. What's enjoyable is the expression on the face of the person who lost compared to the winner. I was delighted when the Pearlridge judges picked it up for Pearlridge and it moved on."
Congratulations to Devan for such a wonderful painting that all the world was able to enjoy this past year and will continue enjoy and appreciate in the years to come. MyPearlCity.com wishes you all the best and is looking forward to someday presenting more of your incredible artwork.
Devan is truly a PC I.N.K. – Incredible Neighborhood Kid!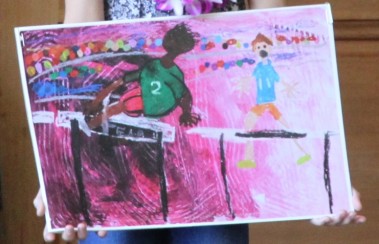 Photo by Barry Villamil | barry@mypearlcity.com
A copy of Devan Budd's international winning painting titled "Racer".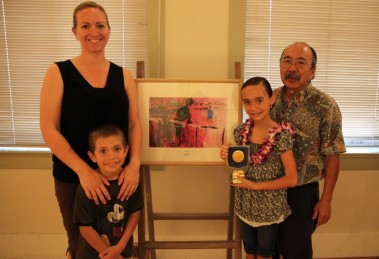 Photo by Barry Villamil | barry@mypearlcity.com
Devan, standing next to her original "Racer" painting while holding her judge's pick trophy, is
pictured with her art teacher and Art and Culture Director at the Museum of Art Hawaii, Roy
Otaguro, Lynne Budd (mom) and Riley Budd (brother) inside the Honolulu Museum of Art School.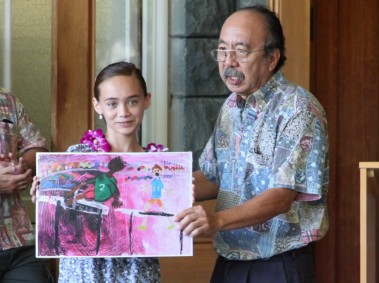 Photo by Barry Villamil | barry@mypearlcity.com
Devan is presented a copy of her winning painting by
Roy Otaguro at the Museum of Art School Hawaii.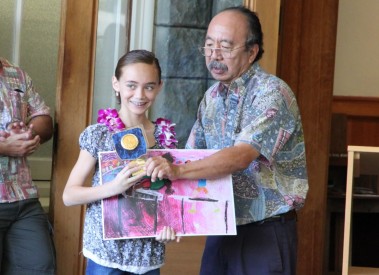 Photo by Barry Villamil | barry@mypearlcity.com
Roy Otaguro presents Devan with the judge's pick trophy from the Mokichi
Okada Museum of Art's 25th Annual International Children's Art Competition.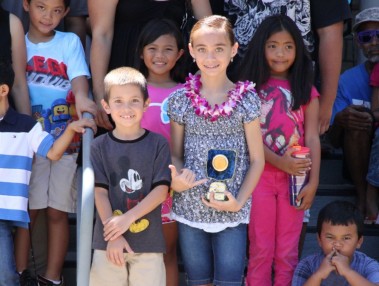 Photo by Barry Villamil | barry@mypearlcity.com
Devan is pictured with her brother Riley during a group photo taken on the steps of the
Honolulu Museum of Art School on May, 31, 2014 following the awards ceremony.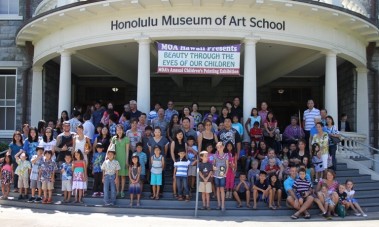 Photo by Barry Villamil | barry@mypearlcity.com
District keiki painting contest finalists and their families pose for a

group photo on the steps of the Honolulu Museum of Art School.