Pearl City Little League announced the 9/10 division all star team that will begin District 7 Championship Tournament play on Thursday, June 12, 2014. The tournament is hosted by Waialua Little League at Puuiki Field in Waialua.
Pearl City drew a first round bye and will play the winner of Wednesday, June 11, Game 1 opening round match-up between Waipahu / Ewa on Thursday at 12:00pm. Pearl City Head Coach Kamu Ainoa and his coaching staff will lead a group of talented ball players into the tournament that runs through Tuesday, June 17.
2014 9/10 District 7 All-Star Tournament Teams:
Waipahu, Ewa, Nanakuli, Waipio, Pearl City, Waialua

2014 9/10 Pearl City All-Star Tournament Team

Gavin Ainoa * Drew Boyles * Kobie Corpuz * Kolby Higa
Makoa Goo * Joseph Keo * Asher Kwon * Mark Moreno
Tyson Murakami * Wendell Namohala * Noah Okimoto * Eli Oshiro
Niko Soma * Karter Wong
Manager: Kamu Ainoa


Congratulations & Good Luck!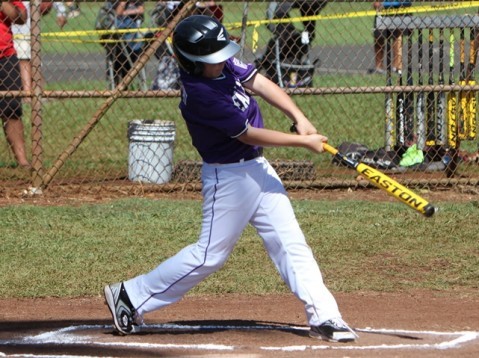 MyPearlCity.com File Photo | barry@mypearlcity.com
Pearl City's Michael Yamaguchi is pictured powering a 3-run home run blast over

the center field fence in the top of the first inning against Waipio in last year's 9/10

District 7 Championship Tournament played at Whitmore Field in Wahiawa.