US Med Urgent Care Pearl City is reaching out to students and graduates interested in the professional healthcare industry through the company's summer internship program that is designed to guide and prepare interns towards pursuing health care careers.
Benefitting from the summer internership program are students and graduates from Pearl City High School, Leeward Community College, and the University of Hawaii – West Oahu.
Hawaii is currently facing a statewide MD shortage that researchers at The John A. Burns School of Medicine (JABSOM), University of Hawaii Manoa have found is worsening. With hundreds of fewer primary care physicians than it needs, the MD shortage is expected to grow even bigger. US Med Urgent Care's "Building the Healthcare Workforce for the Future Summer Internship Program" is designed to prevent such a crisis by providing opportunities for the students and graduates to learn and experience the healthcare profession.
"The program provides hands on exposure, experience and mentoring, and inspires and empowers interns to successfully pursue health careers," said Medical Director, Dr. Brandon Shirai.
US Med Urgent Care CEO Donna Schmidt has served the medical care needs of the community as well being the driving force by leading the way with innovative solutions for over twenty years.
"Our Building the Healthcare Workforce for the Future Summer Internship Program is a great opportunity for students and graduates to be exposed to a professional healthcare environment," said Schmidt. "The shortage of primary care physicians in Hawaii is a growing problem, especially as people age. Plus more people are becoming newly insured and need convenient medical care. It is clear that urgent care centers are a cost-saving alternative to the emergency room, and more healthcare professionals are needed."
Intern Alexandria Tierra
"I hope to gain the quality skills I need when caring for a patient."

Intern Khelsy Kaawaloa
"I look forward to gaining more skills and experience in the health field."

Intern Jordanne Calderon
"I know that with the experience this internship will give me, I will not doubt myself when caring for patients."
"The opportunity to provide this internship program for our community of Pearl City and the Central Oahu area is very important and supports our goal to provide solutions to meet the future challenges in healthcare," said Melissa Bojorquez, US Med Urgent Care Community Outreach Liaison/Business Development Coordinator.
"We are grateful to US Med Urgent Care Pearl City for providing this safe and supportive work environment for students in our work-study program," said Kat Takao Oka, Coordinator for the Pearl City High School Career and Transitions Center. "Along with learning excellent work ethics and skills, this real-world experience helps the students grow as future healthcare professionals and community contributors."
US Med Urgent Care Pearl City is a medical clinic providing immediate and urgent medical care on Oahu for Pearl City, Honolulu, Waikiki, Waipahu, Aiea, Kapolei, Kunia, Waipio, Makakilo, Halawa, Mililani, and Ewa Beach. The clinic provides a quick and affordable option for people needing immediate medical care and treatment for common or everyday health problems seven days a week – no appointments are necessary. It is a full service Urgent Care Center and has state-of-the-art technology to keep in touch with patients' primary care physicians. It also has a digital x-ray suite and procedure room. Along with immediate medical care, it offers drug testing, lab tests and provides basic services such as Sports and School Physicals, Occupational Health and Workers' Comp. US Med Urgent Care Pearl City is a DOT qualified collection site. It is located at 1245 Kuala Street, Pearl City. Phone: 808-456-CARE (2273).www.USMedUrgentCare.com
US Med Urgent Care Pearl City is certified by The Urgent Care Association of America.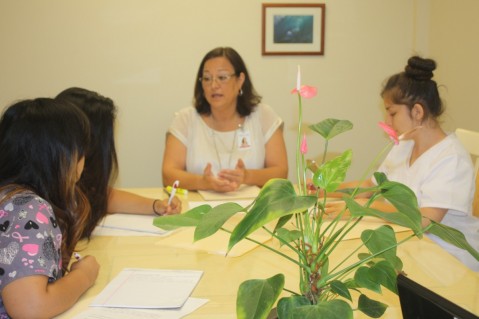 Photo courtesy of US Med Urgent Care Pearl City
US Med Urgent Care CEO Donna Schmidt is pictured training interns.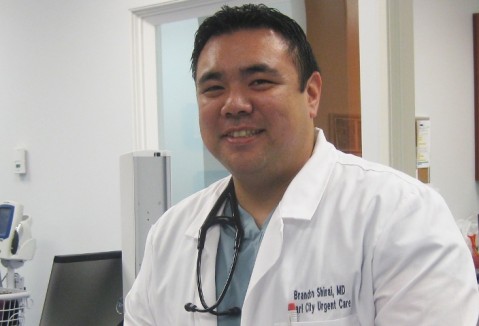 Photo courtesy of BHMarketing
US Med Urgent Care Pearl City Medical Director, Dr. Brandon Shirai