Congratulations to incoming Pearl City High School senior Danson Honda who was recently sworn in by Hawaii Supreme Court Chief Justice Mark Recktenwald on Tuesday, July 2, 2014 to serve on the state's Board of Education as a student representative. Honda was selected by the Hawaii State Student Council to serve as a non-voting student board member on the governor appointed board. Honda will represent 183,000 public school students during the 2014-2015 school year.
Honda is also an all-star Pearl City High School cross country runner and was recognized as the Chargers "Most Outstanding" runner on the boys team for the 2013 OIA cross-country season. Honda is also a drum major for the award winning PCHS Marching Band.
Danicia Honda was last Pearl City High School senior to serve as a student representative on Board of Education during the 2012-2013 school year.
MyPearlCity.com File Photo | barry@mypearlcity.com
Danson Honda (second from left) is pictured at the 38th Annual Oahu Marching Band
Festival held on Monday, November 4, 2013 at Aloha Stadium with (from left to right) PCHS
Marching Band Drum Major Maribelle Frenandez, PCHS Principal Aaron Tominaga, PCHS
VP's Kyle Miyashiro, Herman Leong, Hawaii Governor Neil Abercrombie, PCHS VP Shane
Greenland, (Honda), and PCHS Band Director Chadwick Kamei.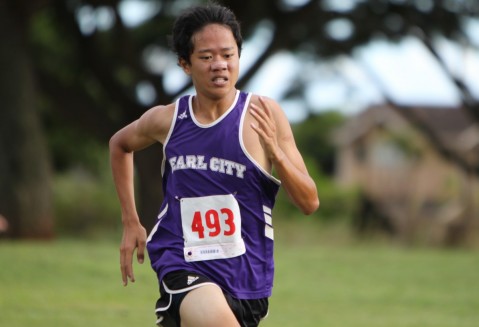 MyPearlCity.com File Photo | barry@mypearlcity.com
Danson heads for home during the 2013 OIA Boys Cross Country Championships.