Submitted by Hawaii State Public Library System:
700 library lovers and supporters attended the Grand Opening Ceremony and program for the new environmentally-friendly Aiea Public Library today (July 19) and the Library officially opened after the ceremony.
Governor Neil Abercrombie, State Senate President Donna Mercado Kim, State Senator David Ige, State Representative K. Mark Takai, State Representative Gregg Takayama, City Council Member Carol Fukunaga, Aiea Community Association President Claire Tamamoto, CDS International Architect Glenn Miura, and State Librarian Richard Burns participated in the Ceremony attended by invited State Legislators, other dignitaries, and the general public.
The ceremony featured a prelude and musical accompaniment by Grammy award-winning slack key guitarist Jeff Peterson, presentation of the colors by a Marine Color Guard from Camp Smith, renditions of the "Star-Spangled Banner," "Hawaii Pono`i," and "The Queen's Prayer" by Misty Kelai, Deputy Director of the City and County of Honolulu, Mayor's Office of Culture and the Arts; an Oli (Hawaiian chant) presented by Mahealani Lum, congratulatory messages by the guest speakers, a blessing by the Reverend Kosho Yagi of Aiea Hongwanji Mission, and the traditional untying of the maile lei. Following the ceremony, attendees enjoyed cake, light snacks, and refreshments.
The celebration continued inside the Library until 3 p.m. and the Library remained open until 5 p.m. Curious library patrons explored their new Library and borrowed books and other items. Balloon Monsoon performed their balloon twisting magic by creating balloon sculptures for mesmerized keiki.
The new $10.4 million, 17,200-square-foot Aiea Public Library, located on the site of the former Aiea Sugar Mill at 99-374 Pohai Place, replaces the former 10,724-square-foot building at 99-143 Moanalua Road that served library patrons for nearly 50 years. The new Library will seek LEED (Leadership in Energy and Environmental Design) Gold Certification and includes features to reduce electricity costs such as a high-efficiency air-conditioning system and 6,000 square feet of photovoltaic solar panels.
This unique Library was designed by CDS International and is reminiscent of the old sugar mill with simple, tall gabled roofs, and exposed structures, mechanical and air-conditioning duct work within the interior space. The Library includes shelving to accommodate up to 78,000 books and 8,000 DVDs and CDs; high speed fiber connectivity for public Internet access, free wireless Internet access with a valid HSPLS library card; 13 computers for public use, two self-help check out stations; a large program room for library events, community meetings and activities; and more parking for library patrons with 53 stalls.
For more information about the Aiea Public Library's programs and services, please call the Library at 483-7333.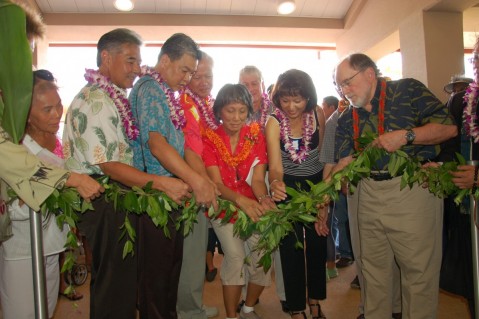 Photo courtesy of HSPLS
Untying of Maile Lei photo (l-r) State Sen. David Ige, State Rep. K. Mark Takai, State Rep. Gregg Takayama,
Claire Tamamoto, President, Aiea Community Assn.; State Sen. Donna Mercado Kim, Gov. Neil Abercrombie.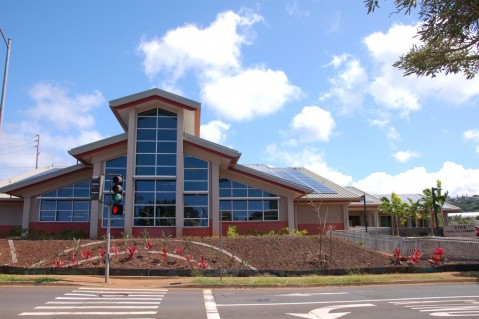 Photo courtesy of HSPLS
New Aiea Public Library, the beacon of the Aiea community.