The Pearl City Chargers 2014 pre-season and regular season OIA DII schedules have been set as both the varsity and junior varsity squads prepare for full contact practice that commences on August 1st. 2013 OIA White Conference Coach of Year Robin Kami will enter his second year at the helm of the Chargers football program with last year's offensive team leader Jordan Taamu returning at QB.
Taamu's experience as the Chargers starting QB will be the key to the success of the high powered and explosive offense that has put up league leading numbers through the air in previous campaigns. Coach Kami finds the program in a rebuilding year after losing all-star performers at running back, wide receiver and offensive line. Gone are top contributors on offense, Blake Cooper (all-purpose), Reno Abero (RB), Justin Dupio (RB), Timothy Rivera (WR), Kierren McGhee (WR), Jordan Fuamatu (OL), Donnel Lefotu (OL).
On defense the Chargers lost several defensive all stars to graduation including OIA White Conference Player of the Year Blake Cooper, (LB), Kristian Kikuyama-Vaana (LB), Jake Bactista (LB), and Cody Crail (DB). Senior starters Zebadiah Selu, Petro Mataia along with Pjay Soloman and Jordan Fuamatu will be called on to lead the defense with a core of underclassmen up from the junior varsity squad.
The Chargers also return with a talented and experienced core of varsity coaches on both sides of the ball led by offensive coordinator Andrew Blue and defensive coordinator Cajo Cabato.
MyPearlCity.com would like to wish the Chargers varsity and junior varsity football teams much success in the upcoming 2014 football season.
GO CHARGERS!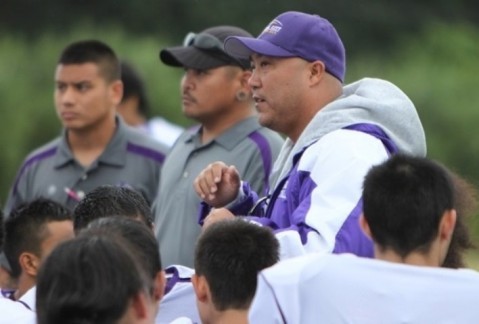 Photo by Barry Villamil | barry@mypearlcity.com
Pearl City Varsity Football Head Coach Robin Kami enters his second year at the helm of

the Chargers Football Program after a successful 6-2 OIA White Conference record and a 7-5

overall record in 2013 and a bid into the HHSAA Division II State Championship Football

Playoffs. Kami was also named the 2013 OIA White conference Coach of Year.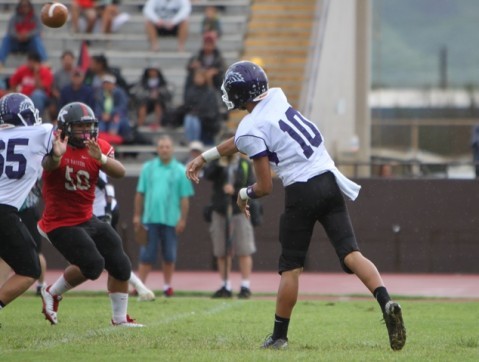 Photo by Barry Villamil | barry@mypearlcity.com
Senior QB signal caller Jordan Taamu returns to guide the Chargers high powered offense.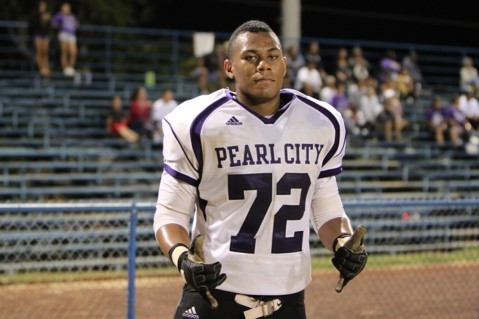 Photo by Barry Villamil | barry@mypearlcity.com
Senior Kordell Vaa at 6'3 and 260 lbs. will anchor the Chargers offensive line at center. Vaa is one
of a core of Chargers upfront players who work in the trenches on both the OL and DL sides of the ball.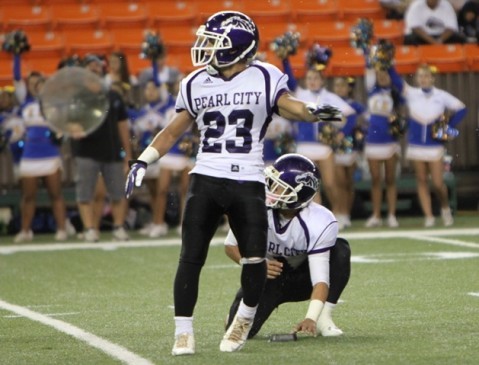 Photo by Barry Villamil | barry@mypearlcity.com
Senior Dominic Maneafiga will play an integral role as the Chargers kicker and at running back.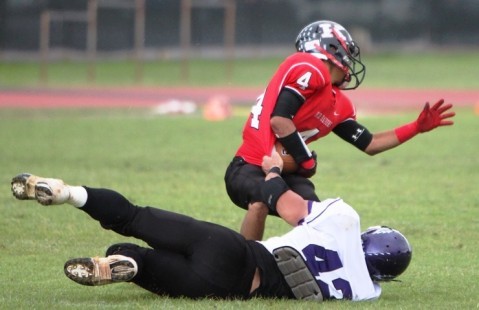 Photo by Barry Villamil | barry@mypearlcity.com
Zebadiah Selu recorded 8 solo tackles against Kauai in the first round of the

2013 HHSAA DII State Football Championships played at Vidinha Stadium on Kauai.

2014 Chargers PRE-SEASON and OIA DIVISION II REGULAR SEASON SCHEDULES:

PRE-SEASON

Friday, August 8 Pearl City @ Castle JV 6:00pm Varsity 8:00pm
OIA DIVISION II REGULAR SEASON

Friday, August 15 Roosevelt @ Pearl City JV 6:00pm Varsity 8:00pm
Saturday, August 23 Pearl City @ Waialua JV 4:00pm Varsity 6:00pm
Friday, August 29 Kaimuki @ Pearl City JV 6:00pm Varsity 8:00pm
Friday, September 5 Pearl City (visitor) vs, Anuenue @ Pearl City Varsity 6:00pm
BYE (Friday, September 12 – Saturday, September 13)
Saturday, September 20 Pearl City (visitor) vs. Radford @ Aiea JV 4:00pm Varsity 6:00pm
Friday, September 26 Pearl City @ Nanakuli JV 6:00pm Varsity 8:00pm
Friday, October 3 Kalani @ Pearl City JV 6:00pm Varsity 8:00pm
Friday, October 10 Kalaheo @ Pearl City JV 6:00pm Varsity 8:00pm
OIA DII Playoffs – First Round

Friday, October 17 – Saturday 18 Location TBA

OIA Playoffs – DII Championship

Friday, October 31 @ Aloha Stadium

OIA Junior Varsity DII Championship

Saturday, November 1 Location TBA