Did you know that you can plan and conduct a food drive in your community to support Hawaii's hungry through the Hawaii Foodbank? In the last few years, I've been involved in volunteering and supporting community organizations in Pearl City who help collect much needed food donations for the Hawaii Foodbank. It's truly amazing to have the opportunity to experience the generosity of both the residents and businesses in Pearl City who give from their hearts on an annual basis in support of the Hawaii Foodbank and their efforts to insure that those in need do not go hungry.
Hawaii Foodbank Mission:

The people of Hawaii are one ohana. The Hawaii Foodbank provides food so that no one in our family goes hungry. We work to gather food and support from our communities. We then distribute food through charitable agencies to those in need. Our mission is from the heart, and we will fulfill our mission with integrity, humanity and aloha."

For more information and to learn how you can organize a food drive in your community contact Kim Bartenstein @ [email protected].
Hawaii Food Bank – Community Food Drive Success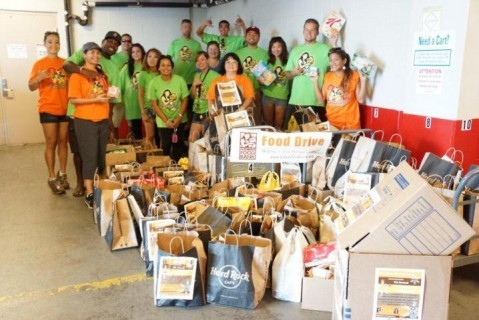 Photo courtesy of Christina Laney-Wycheck and Yumi Lani
Christina Laney-Wycheck and her mom Yumi Laney, along with a dedicated group of volunteers
representing family and friends, conduct their own annual community food drive in Pearl City during the

month of November in support of the Hawaii Foodbank's call for donations for the holiday season. Last

November, the group collected over 2000 lbs. of canned goods and other non-perishable food donations.

Christina and Yumi serve as a community success story with their efforts to help feed Hawaii's hungry

through the support from generous community donations as well as financial support from their employer
Kahala Associates and other corporate sponsors. The group is pictured here at the Hawaii Foodbank with
their haul of community food drive donations collected by the volunteers in November 2013.