Hawaii Department of Education Superintendent Kathryn Matayoshi announced today that public schools on Oahu and Kauai have been added to the list of public schools that will be closed across the state on Friday.
The closures are due to weather conditions caused by Hurricane Iselle and Hurricane Julio as they are forecasted to bring heavy rain and winds throughout the state starting today through the weekend.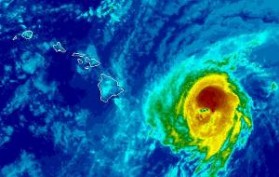 CENTRAL PACIFIC HURRICANE CENTER
Satellite image of Hurricane Iselle as it makes it's way towards Hawaii island on Thursday.