Brandon Elefante is 24 hours away from potentially fulfilling his dream of be elected to represent Honolulu City Council District VIII (Aiea, Pearl City, Waipahu) in tomorrow's Hawaii State Primary Elections.
Elefante, 28, brings city experience as an aid to Honolulu City Councilmember Breene Harimoto who has moved on and will soon represent Pearl City in the State Senate (District 16, Pearl City). Harimoto is running unopposed in this year's election and will occupy the legislative Senate seat vacated by Senator David Ige who is running in the Democratic primary for Governor.
Elefante sees a smooth transition from city council aid to city councilman if elected to office. He is set to bring forth his vision of moving Honolulu and District VIII forward while building on a list of core values that he believes in.
"For me it's about the vision for Honolulu going forward and having those family values as well as looking out for our seniors," said Elefante. "It's about how do we carry Honolulu and these communities, Aiea, Pearl City, and Waipahu in the next 10 years? My vision going forward is to continue those core values that we have as a community, as family looking out for one another. Safety is a big concern of course, but more importantly it's about looking out for the best interest for the people.
With a growing District VIII community, and change taking place on a daily basis, Elefante expressed addressing community concerns and the driving force behind his planned and structured efforts to shape our community in a positive direction heading into the future.
"The driving force behind me is because I've lived in this community and I've seen it change," Elefante said. "I want to be a part of the solution and be the advocate for a lot of the people's concerns moving forward and how we carry out our future and how we plan it. It's not only how we shape our community in terms of land use policies, but city finances, our core infrastructure, services, and our parks. And how do we continue to make our community vibrant and great and still have economic revenue coming in."
Candidate Elefante is truly grateful for the support he has received throughout his campaign.
"I would like to thank everyone that I've met during my campaign," Elefante said. "I just really appreciate them for taking the time to meet with me and for taking the time to listen and hear about my vision and why I'm running. I feel very capable of being their next council member. It's really an amazing feeling during every type of activity that we've had, seeing friends inviting fiends who get involved. That's what it's really all about. It's engaging people. It doesn't matter how old you are, or where you come from. It's about participating in democracy."
The honor of being elected to serve District VIII?
"I look at this as truly being a public servant, truly serving the community and doing the best I can to represent them."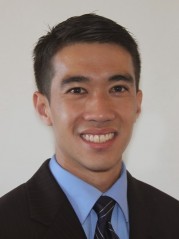 Photo courtesy of Brandon Elefante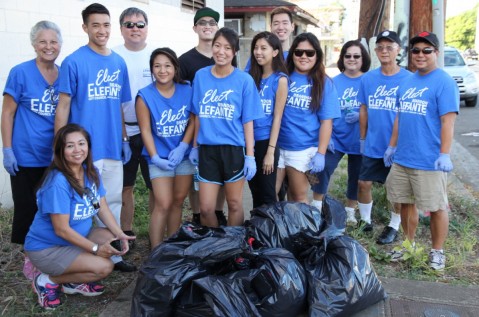 Photo by Barry Villamil | barry@mypearlcity.comj
The Brandon Elefante community volunteer team taking care of our Pearl City community in early July 2014.