From Pearl City Hongwanji web site – www.pearlcityhongwanji.com:
Friday, August 8 Cancelled due to Tropical storm Isselle. Saturday schedule still on. If you have questions, call temple at 455-1680
5:30 p.m. Food booth, country store and craft booth open
5:45 p.m. Hatsubon Service
7:00 p.m. Dance (until 10:00 p.m.)
7:00 p.m Children's games (until 8:30 p.m.)
Plate lunches: shoyu chicken,shoyu pork, kalua cabbage ($7.50)
lncludes: rice, mac salad, corn niblets, chili bowl ($3.50), teriburger ($2.50), B.b.q. stick ($1.50), Spam musubi
($2.00), Shaved ice ($1.50), drinks (soda, water, or juice) ($1.00).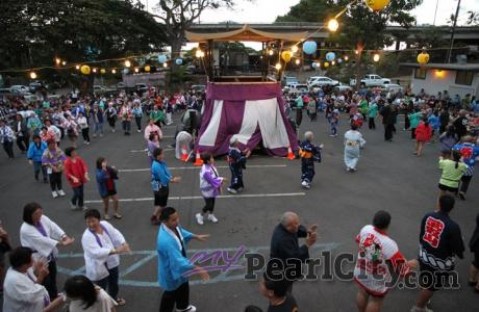 MyPearlCity.com File Photo | barry@mypearlcity.com
Pearl City Hongwanji 2013 Obon Festival