Last night, Pearl City's David Ige won the Democratic Gubernatorial Primary Election in a landslide victory over incumbent Neil Abercrombie with an amazing 66% of the votes that totaled 143,835. Abercrombie brought in 30.9% of the votes with final vote count of 67, 368.
Ige will head to November's General Election and will face former Republican Lt. Governor Duke Aiona and former Honolulu Mayor Mufi Hannemann who is running as an Independent.
Ige proved that with the right message and positive campaign platform supported by believers and true supporters, an underdog can overcome adversity to win an election to the state's top office. Support for Ige has come via the HSTA who backed his campaign after feeling that they were not being supported by Governor Abercrombie during his first term. Ige also thanked his mom and dad for their support and words of wisdom taught and instilled in him while growing up and well into adulthood and his life today.
"I did want to thank Wil Okabe and the HSTA, they were the first, and they were there from the very beginning and they were there at every single event, so thank you for teachers," said Ige. "I did want to also thank my father who passed away several years ago. He definitely instilled in me that leadership is really walking the talk and it's really more important what you do than what you say, and I've lived that for all of my years at the State Capitol. I wanted to thank my mom who was always my greatest supporter. She couldn't be here tonight, but I will be visiting her tomorrow."
When his campaign first started, David Ige wasn't exactly a household name. He needed to build name recognition and that's exactly what he did. Saturday night's results from voters across the islands that turned out in support of Ige and his campaign strengthened his mission to carry on with his message. Ige was quick to take advantage of the opportunity to thank everyone while re-engerzing his campaign's direction and the road ahead. Support from former Hawaii Governor's George Ariyoshi and Ben Cayetano gave him that extra confidence and knowledge to make certain positive campaign choices.
"We started this campaign believing in people and the people of Hawaii and we knew that if we reached out and touched enough people than we would have an opportunity to be successful," Ige said. "There are many, many more votes to be counted, but it is so energizing to be here this evening amongst all of you. When we started this 13 months ago, no one thought that we would ever get anywhere close to where we are today. There are many more votes to be counted, but I feel really good about it. I did want to thank Governor Ariyoshi and Governor Cayetano for believing in me. When I first met with Governor Ariyoshi he said the secret is coffee hours, and that's what we've been working on (said with a smile).
In a gesture of support and unity for the Hawaii Democratic Party, Governor Abercrombie made a stop at the Ige Campaign Headquarters Saturday night to offer his congratulations and support as Ige heads to November's General Election. Honolulu Mayor Kirk Caldwell, who threw his support for Governor Abercrombie in the Primary Election, also stopped in to congratulate candidate Ige on his victory.
I would like to congratulate and wish David, Dawn and their children Lauren, Amy, and Matthew along with their ohana and supporters the best of luck in November!
To learn more about David Ige log on to: www.davidige.org
For complete campaign results log on to the Hawaii State Office of Elections website at: http://hawaii.gov/elections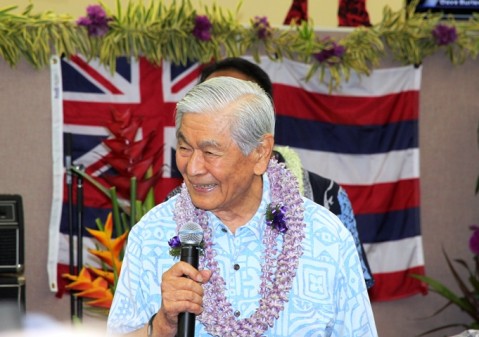 Photo by Barry Villamil | barry@mypearlcity.com
Former Hawaii Governor George Ariyoshi is pictured speaking to Ige supporters last night
about why he thinks David Ige is the best candidate for the office of the Governor.
Former Governor Ben Cayetano also spoke to supporters about why he supports David ige.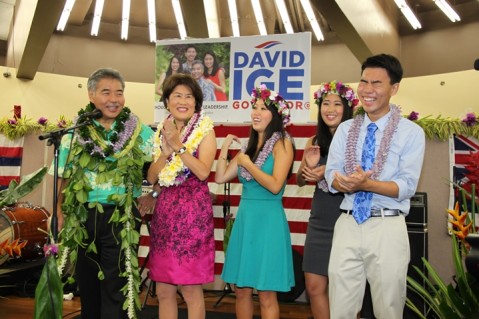 Photo by Barry Villamil | barry@mypearlcity.com
The Ige ohana is pictured enjoying the moment last at the Ige Campaign

Headquarters located in the Varsity Building on University Avenue in Honolulu.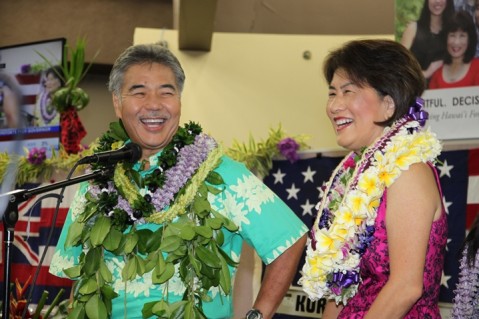 Photo by Barry Villamil | barry@mypearlcity.com
David and Dawn Ige.