Goodfellow Bros., Inc. (GBI) would like to inform everyone that work on the H1 airport viaduct project is scheduled for the EASTBOUND lanes this weekend.
Work will begin on Friday night at 9:00 pm and run thru SUNDAY 3:00 pm. Lane closures will take effect on the left lanes of the H1 viaduct. The right shoulder lane will be used as a travel lane during this time period. In addition, the Joint Base Pearl Harbor-Hickam on ramp will be closed. Those that are coming from Joint Base Pearl Harbor-Hickam will be directed to use Nimitz Hwy. when travelling east.
For Nimitz Hwy, two left lanes between Elliott and Aolele streets will be closed.
All other ramps, besides the Joint Base Pearl Harbor-Hickam On Ramp, will remain open.
During the pouring of concrete, speeds will be reduced to 15 MPH in order to minimize traffic induced vibrations that could affect the newly repaired deck.
Thank you very much for your patience and understanding. Please plan your travel accordingly to avoid any delays.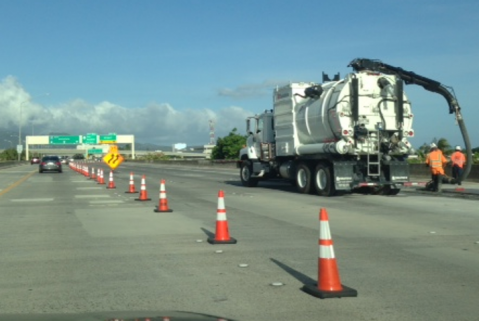 MyPearlCity.com File Photo | barry@mypearlcity.com