Information provided by HSPLS:
The General Election is just two months away, on November 4. Are you registered to vote?
Hawaii's 50 public libraries statewide offer two brochures "Wikiwiki Voter Registration" and "Wikiwiki Voter Registration & Permanent Absentee" that include voter registration forms (wikiwiki means "quickly, fast" in Hawaiian).
Eligible voters must be a citizen of the United States of America, a legal resident of Hawaii, and 18 years old by General Election Day (November 4). Permanent absentee voting allows registered voters to receive their ballots by mail for future elections.
Deadlines: voter registration application forms must be received by 4:30 p.m. on October 6 at the City Clerk's Office (City and County of Honolulu), the Office of Elections, or at the Neighbor Island county clerk's office where you live. Mailed voter registration applications must be postmarked by October 6. If applying for permanent absentee voter status, forms must be received by October 28.
Voting is one of the cornerstones of a democratic society, and by voting, you will be helping to choose the representatives who will make decisions affecting you, your family and your community. We encourage all eligible voters to register and vote.
For more information, visit www.hawaii.gov/elections, call the Voter Hotline: 453-8683 on Oahu; Neighbor Islands call toll-free at 1-800-442-8683; or refer to the brochures.
The Pearl City Public Library is located at: 1138 Waimano Home Rd, Pearl City, HI 96782 (808) 453-6566.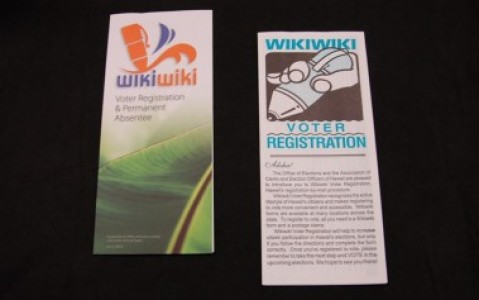 Photo proiided by HSPLS