The Pearl City High School Athletics Department received a $500.00 check donation from the Pearl City Shopping Center (PCSC) Merchants Association on Wednesday at the school gymnasium. The check donation was presented by PCSC Merchants Association Board Members Sheri Rolf and Shawn Taniguchi to PCHS Athletics Director Reid Shigemasa and PCHS student athletes Jordan Taamu (QB, Varsity Football), Chelsi Morishige (State Champion, Varsity Bowling), and Mckayla Apo (Libero, Varsity Girls Volleyball).
The PCSC Merchants Association is proud to support PCHS athletics and the hundreds of students athletes and their coaches who represent Charger Pride and Excellence with Honor in competition, in the classroom, and in our Pearl City community.
GO CHARGERS!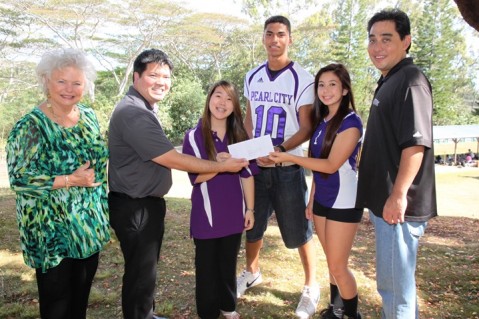 Photo by Barry Villamil | barry@mypearlcity.com
(Pictured from left to right) Pearl City Shopping Center Merchants Association Board Members Sheri Rolf

and Shawn Taniguchi, PCHS student athletes Chelsi Morishige, Jordan Taamu, Mckayla Apo, and PCHS

Athletics Director Reid Shigemasa. Shawn Taniguchi is pictured handing Morishige, Taamu, and Apo the

$500.00 check donation from the PCSC Merchants Association on Wednesday, September 17, 2014.