Submitted by US Med Urgent Care:
Donna Schmidt, CEO, receives Certificate of Recognition at the
Society of Human Resource Management Hawaii State Conference, Friday, October 10, 2014
Donna Schmidt, CEO of US Med Urgent Care, received a Certificate of Recognition as a Finalist of the 2014 When Work Works awards at the Society of Human Resource Management (SHRM) Hawaii State Conference at the Sheraton Waikiki on Friday, October 10th, 2014. When Work Works is a joint partnership between Families and Work Institute (FWI) and The Society for Human Resource Management. SHRM and the FWI presented the awards. US Med Urgent Care was one of eight companies in the state of Hawaii who were recognized.
Schmidt remarks, "It is an honor and I am delighted that US Med Urgent Care is a finalist for the When Work Works award. We are proud of the services we provide, and we are grateful for the opportunity to serve the communities of Pearl City and central Oahu. I thank my US Med Urgent Care Pearl City team and all the folks at SHRM and FWI for this recognition." US Med Urgent Care attended the SHRM conference and launched the company's new Occupational Medicine and Workers' Comp services.
The When Work Works awards (formerly known as the Alfred P. Sloan Awards for Excellence in Workplace Effectiveness and Flexibility) are unique for their rigorous, two-step selection process, which involves an evaluation of employers' flexibility programs and practices, and a confidential employee survey of the key ingredients of an effective and flexible workplace. All applicants are measured against national norms for the 2014 National Study of Employers.
When Work Works awards is a research-based nationwide initiative to bring research on workplace effectiveness and flexibility into community and business practice. When Work Works partners with communities and states around the country to:
Share rigorous research and employer best practices on workplace effectiveness and flexibility;
Recognize exemplary employers through the Sloan Awards based on surveys of employers and employees; and
Inspire positive change so that increasing numbers of employers understand how effective and flexible workplaces can benefit both business and employees, and use this information to make work "work."
Donna Schmidt, LCSW, has been dedicated to helping people throughout her career. Since 1991 she has been providing medical social services to people in need, most recently providing medical case management services to frail elders and disabled individuals through Case Management, Inc., (CMI) an Oahu-based company that provides comprehensive case management services and foster home care to those in need of long term care. She is a called-upon expert on long term care to the media and the Hawaii State Legislature. A leader in providing opportunities to staff and innovative health care solutions, Donna Schmidt recently received an Honorary Certificate of Appreciation from the Honolulu City Council, was a Finalist in thePacific Business Women Who Mean Business 2013.
US Med Urgent Care Pearl City is a medical clinic providing immediate and urgent medical care on Oahu for Pearl City, Honolulu, Waikiki, Waipahu, Aiea, Kapolei, Kunia, Waipio, Makakilo, Halawa, Mililani, and Ewa Beach. The clinic provides a quick and affordable option for people needing immediate medical care and treatment for common or everyday health problems seven days a week – no appointments are necessary. It is a full service Urgent Care Center and has state-of-the-art technology to keep in touch with patients' primary care physicians. It also has a digital x-ray suite and procedure room. Along with immediate medical care, it offers drug testing, lab tests and provides basic services such as Sports and School Physicals, Occupational Health and Workers' Comp., flu shots, flu testing and treatment. US Med Urgent Care Pearl City is a DOT qualified collection site. It is located at 1245 Kuala Street, Pearl City. Phone: 808-456-CARE (2273).www.usmedurgentcare.com
US Med Urgent Care Pearl City is certified by The Urgent Care Association of America.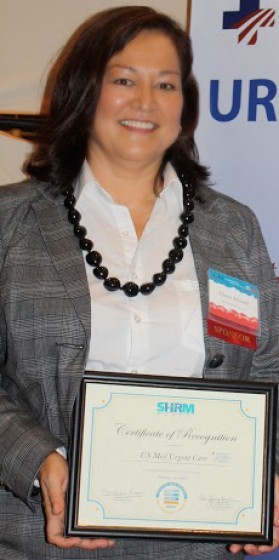 Photo courtesy of US Med Urgent Care
Donna Schmidt, CEO of US Med Urgent Care