Submitted by Honolulu City Councilman Breene Harimoto:
Shigeo "Shige" Ushiro was a long-time resident of Manana who made a significant impact on the Pearl City community through both his personal and professional activities. Not only was he an active member and leader in various Pearl City community organizations, he also had a 31-year career as a public educator, including serving as Principal of Highlands Intermediate School from 1974 to 1986.
Sadly, Shige passed away in 2010. Subsequently, in recognition of Shige's lifetime of compassionate and committed service to not only his Manana neighborhood, but also the greater Pearl City community, the Honolulu City Council renamed the Manana Neighborhood Park to the "Shigeo Ushiro Manana Neighborhood Park".

To further memorialize Shige's legacy the Pearl City Foundation, Pearl City Community Association, Manana Community Association, and personal friends of Shige have donated a bronze plaque with the park's new name to be installed at the park.
To commemorate the renaming of the park and unveiling of the plaque a blessing and dedication ceremony will be held on:

Date: Wednesday, October 29
Time: 10:00 a.m. to 11:00 a.m.
Place: Manana Neighborhood Park
1550 Kuahaka Street
Fronting the pool/pool building

The public is welcome to attend. For more information please call Robert Sato at 768-5066.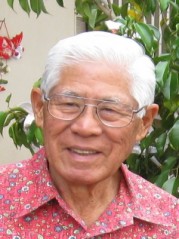 Photo courtesy of the Ushiro Family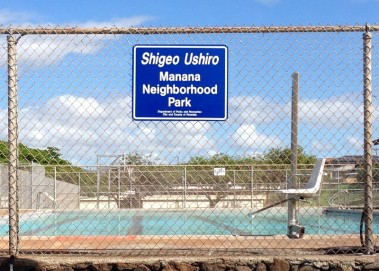 Photo courtesy of Councilman Breene Harimoto