Submitted by Hawaiian Electric:
Celebrate Arbor Day!
Get a free tree or shrub at the Hawaiian Electric Arbor Day Tree Giveaway, early Saturday morning, November 8. You'll enjoy taking it home, planting it in a special place, and watching it grow.
While the Arbor Day giveaway takes place at six locations across O'ahu, we're lucky to be able to go to our neighborhood U.H. Urban Garden Center, at 955 Kamehameha Highway.
Be sure to line up early to get your first choice from a variety of fruit trees, spice plants, flowering shrubs, and native plants. Featured for the first time are Brazilian cherry, bridal bouquet plumeria, brown turkey fig, dwarf tiare, Lebronnecia, Thai chili pepper, and violet tree.
At the giveaway, you can only select one plant per family, while supplies last. However, at the Urban Garden Center there will also be a plant sale to raise funds for the facility.
Certified arborists and volunteers will be on hand to answer your questions and help you pick out the best plant for your home. They'll also give you a brochure with tips on planting a tree properly.
For details on the plants to be given away, call Hawaiian Electric at 543-7511 or go to www.arbordayhawaii.org.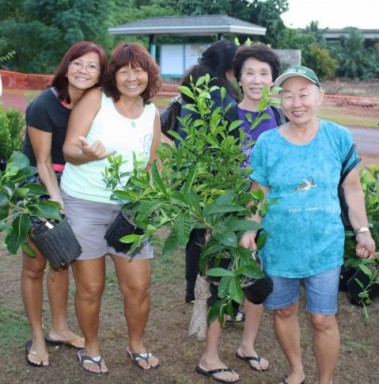 Photo courtesy of Janet Crawford, Hawaiian Electric
This happy group of area residents are pictured with their prize catch

of "Free" & "Healthy" trees at last year's Hawaiian Electric Arbor Day

Tree Give away held at the U.H. Urban Garden Center in Pearl City.

FREE trees (below) from many varieties that will
be available on Saturday, Nov. 8 (while supplies last).

Star Fruit Tree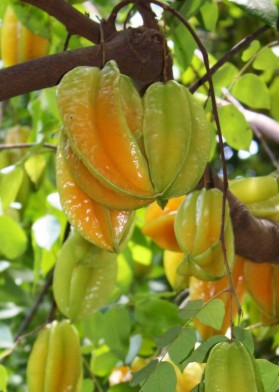 Photo courtesy of Hawaiian Electric
Kou Tree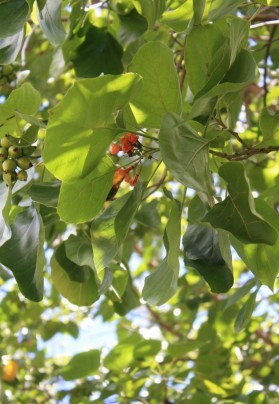 Photo courtesy of Hawaiian Electric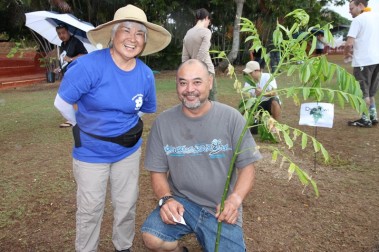 MyPearlCity.com File Photo | barry@mypearlcity.com
U.H. Oahu Urban Garden Center Master Gardeners will be on hand on Saturday,
November 8 to help the public pick the perfect tree or plant for their home gardens.