Pearl City Bowlers roll into to Kona to defend Boys & Girls state titles!
I would like to wish the best of luck to the both the boys and girls Pearl City Chargers bowling teams who are in Kona to defend their HHSAA State Bowling Championships. The championship tournament runs from Thursday, October 30, 2014 through Saturday, November 1, 2014.
The Charger Boys, led by Head Coach James Hayashi, will be bowling for a 5-PEAT. The Chargers are on a state championship winning streak dating back to 2010. They are talented and focused on striking gold this weekend.
Lady Chargers Head Coach Millie Gomes is right behind Coach Hayashi with three state championships in a row dating back to 2011. With the possibility of a 4-PEAT, the Lady Chargers have a very talented nucleus of bowlers led by defending 2013 state champion Chelsi Morishige.
Let's all get behind our Chargers and cheer them on to victory!
CHARGER PRIDE! GO CHARGERS!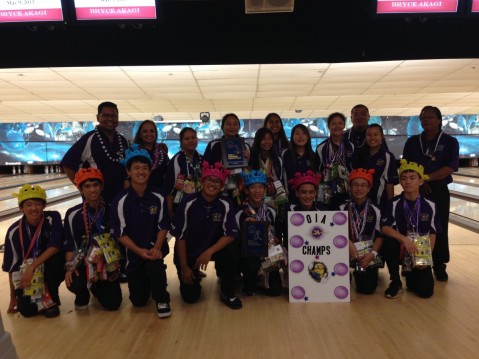 Photo courtesy of Lisa Frost
2014 Oahu Interscholastic Association Boys & Girls Bowling Champions!
GO CHARGERS!