Congratulations to both the Pearl City Chargers Boys and Girls bowling teams who won HHSAA Billy Tees State Team Bowling Championship titles on Saturday, November 1 in Kona on the Big Island of Hawaii. Pearl City Boys captured their fifth straight team championship while the Lady Chargers brought home their fourth state title in a row.
The championship tournament ran this week from Thursday, October 30, Saturday, November 1 .
Congratulations to Charger Boys Head Coach James Hayashi and Lady Chargers Head Coach Millie Gomes for their leadership and coaching skills while leading the Chargers, once again, to 2014 OIA and state championship titles.
Mahalo to Lisa Frost for contributing her championship photos!
More championship coverage coming up soon!
For complete championship individual and team results log on to: http://www.sportshigh.com/sports/bowling/tournament/2014
2014 HHSAA BILLY TEES
BOYS & GIRLS HAWAII STATE BOWLING TEAM CHAMPIONS

PEARL CITY BOYS – 5X

LADY CHARGERS – 4X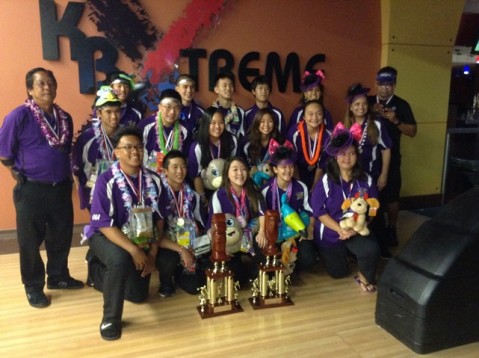 Photo courtesy of Lisa Frost