Favorite recipes highlight company's roots in the community

Submitted by Hawaiian Electric:
Hawaiian Electric has published "Celebrating 20 Years of The Electric Kitchen" cookbook as a fundraiser for the 2015 Aloha United Way campaign. The 178-page, spiral-bound volume highlights more than 160 favorite recipes from the company's former television cooking show that, over the years, featured many community, cultural and civic organizations as well as local celebrities, chefs and restaurants.
The 20th anniversary edition also includes recipe contributions from employees, snack recipes for pets, as well as energy-saving tips for the home cook. Hawaiian Electric Customer Service locations at 820 Ward Avenue and 1001 Bishop Street, American Savings Bank Tower Lobby will carry order forms and the $14 cookbooks for purchase, and copies also may be purchased by mail. Visit www.hawaiianelectric.com/2015AUWcookbook for order forms and details.
Hawaiian Electric has been sharing the joy of cooking and eating for more than 90 years. The tradition began in the 1920s when Hawaiian Electric employed home economists to teach homemakers how to use electric appliances. Later, the demonstrations evolved and carefully tested recipes were shared with the public through special appearances by the home economists in the community. These cooking demonstrations in front of standing-room only crowds were held at the then HIC (Hawaiʻi International Center, now known as the Neal Blaisdell Center or NBC), Coral Ballroom at Hilton Hawaiian Village, and later returned to NBC.
During the 1980s, Hawaiian Electric began producing a monthly half-hour cable access show "Mahele" to share recipes and provide energy education. The programs were filmed in front of a live audience. Then in October 1994, Hawaiian Electric launched the first television cooking program of its time, "The Electric Kitchen," to share recipes from community, cultural and nonprofit organizations as well as energy conservation, energy efficiency and electrical safety tips. The half-hour program was filmed at Hawaiian Electric's King Street auditorium and televised locally. Host Allison Zecha confessed that she knew nothing about cooking but her delight in learning from her guests charmed audiences.
What began as an education and outreach effort by Hawaiian Electric quickly attracted a following. Guest chefs were frequently invited on the show to prepare popular recipes while various organizations shared recipes that promoted their cultural events, festivals and traditions. As the home economists retired and company priorities evolved, "The Electric Kitchen" aired its last show in August 2005 amid tears by staff and audiences. Fans of the former cooking show can attest to its popularity which lives on today through a newspaper column, recipe archives on the company website, and a weekly #FoodieFriday on the company's social media accounts.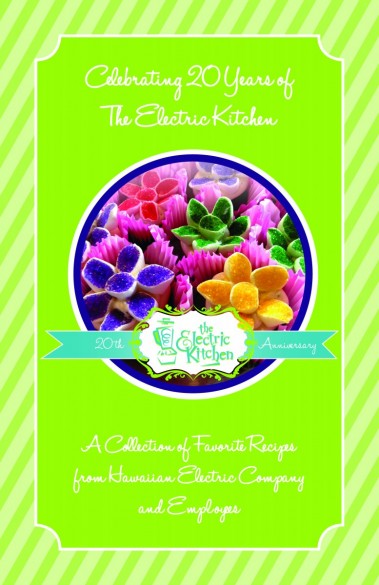 Photo courtesy of Hawaiian Electric